After extending the fall 2006 special introductory prices for Lutheran Service Book and its companion editions through spring 2008, Concordia Publishing House will increase the price of the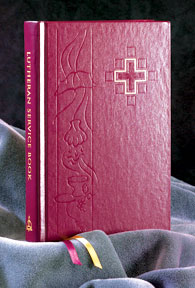 pew edition of the new hymnal from $18.50 to $23 (plus shipping), effective May 12. Many of the hymnal's companion editions also will see modest price increases on that date.
No increase in price is planned for annual renewals of Lutheran Service Builder and the accompanying liturgy license.
However, when Lutheran Service Builder 2.0 is released in November, there will be a 15 percent increase on the initial purchase price for new customers. Existing subscribers will receive version 2.0 and all of its enhancements as part of their ongoing service at no extra cost.
More than 60 percent of the Synod's 6,000-plus congregations are using the new hymnal, according to the publishing house.
"The response to Lutheran Service Book and its companion editions has been phenomenal," said Bruce G. Kintz, CPH's president and chief executive officer. "The demand has been unprecedented, and we are able to extend introductory prices until May of this year."
Even with the increase, Lutheran Service Book "remains modestly priced in comparison to other hymnals in the market," Kintz told Reporter.
"It is our hope that every LCMS congregation has the opportunity to use LSB resources for generations to come," he said.
To see all resources related to the new hymnal, including the new Lutheran Service Book: Propers of the Day, or to order, visit http://lsb.cph.org.
Posted Jan. 30, 2008