Dr. Henry E. Simon, who served as president of the Synod's North Wisconsin District from 1974 to 1985, died of Parkinson's disease Jan. 25 in Appleton, Wis. He was 88. A funeral service was held Jan. 30 at Faith Lutheran Church in Appleton.
Simon's daughter, Lo Simon of Appleton, described her father as humble and kind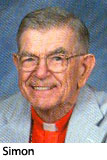 . "He was a tremendous witness," she said, who "touched everyone" with the love of Jesus Christ.
Workers at the nursing home where he lived often would share their problems with him, and he would say, "Let's pray about it," according to his daughter. "He prayed with everybody," she said, but wasn't "preachy."
"People listened to him and respected him," she said, and sharing his faith "was the most important thing to him."
Simon graduated from Concordia Seminary, St. Louis, in 1944, and served as pastor of St. John Lutheran Church in Lilly, Wis.; St. Matthew Lutheran Church in White Lake, Wis.; and Faith Lutheran Church in Appleton. He served nearly 25 years at Faith, Appleton, which grew during that time from a mission congregation of four member families to a congregation with two pastors that planted two "daughter" congregations.
In the North Wisconsin District, Simon served as second vice-president, chairman of the Pastoral Conference, chairman of the Board for Missions, a member of the Board of Education, and Bible study advance chairman. He also served a term on the Synod's Board for Mission Services.
He received an honorary doctorate from Concordia University, St. Paul, Minn., and was named an "Alumnus of the Year" by Concordia University Wisconsin, Mequon.
Simon's wife, Dorothy, died May 3, 2007, several months short of the couple's 63rd wedding anniversary.
In addition to his daughter, Lo, Simon is survived by sons Rev. Henry A. (Dr. Mary Manz) Simon of Odenton, Md., and James (Bonnie) Simon of Watertown, Wis.
Memorials may be made to Bethesda Lutheran Home, Watertown, Wis., or Faith Radio Ministry, c/o Faith Lutheran Church, Appleton.
Posted Jan. 28, 2008