LCMS World Mission is offering a number of resources to help congregations celebrate "Armed Forces Sunday" on May 18. The theme of this year's materials is "Strength for a Troubled World."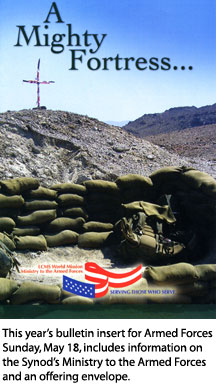 The special observance, held annually the week before Memorial Day weekend, gives congregations an opportunity to:
honor those who serve or have served in the armed forces.
learn how they can support the Synod's Ministry to the Armed Forces.
celebrate what God is doing through Lutheran chaplains to provide spiritual support to those serving in the military worldwide.
LCMS congregations should have received an e-mail in mid-April with information about this year's observance.
Most of the resources for Armed Forces Sunday are available online, including:
suggested sermon notes.
a reproducible responsive prayer.
the Navy hymn, "Lord, Guard and Guide."
an order of service for members departing for military service.
So Help Me God, the quarterly newsletter produced by Ministry to the Armed Forces.
a form to register congregation members who are in the active military for "Ministry-by-Mail," which provides free devotional materials to service men and women.
instructions for assembling "care packages" for overseas troops.
Also available is a new bulletin insert with a contribution envelope that may be ordered by phone or e-mail, but is mailed to congregations.
Congregations that ordered Armed Forces Sunday materials last year will automatically receive the same number of bulletin inserts for this year's observance.
The Lutheran Church–Missouri Synod has provided ministry to military personnel since the days of the Civil War. Today its Ministry to the Armed Forces also recruits, trains, and endorses military chaplains, and helps chaplains and military personnel re-adjust to life after deployment through its Operation Barnabas program.
The Synod has 75 active duty military chaplains and another 105 chaplains who serve Reserve and National Guard units. Nineteen LCMS chaplains are currently serving in Iraq or Afghanistan.
For more information about the Synod's Ministry to the Armed Forces, call (800) 433-3954 or send an e-mail to lcmschaps@lcms.org.
To order or download resources for celebrating Armed Forces Sunday, go to www.lcmsworldmission.org/armedforces.
Posted April 25, 2008