The 111th United States Congress includes four Missouri Synod Lutherans — two of them new members of Congress. All four serve in the U.S. House of Representatives.
Those new representatives — sworn in Jan. 6 — are Republicans Cynthia Lummis from Wyoming and Erik Paulsen from Minnesota. Returning LCMS members of the House are David Reichert (R-Wash.) and John Shimkus (R-Ill.).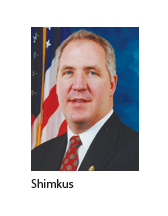 Of the four LCMS representatives, Shimkus has served on Capitol Hill the longest, since 1997. He is a member of Holy Cross Lutheran Church, Collinsville, Ill., and represents the state's 19th Congressional District.
A graduate of the U.S. Military Academy at West Point, Shimkus was previously treasurer of Madison County, Ill. Earlier, he taught at Metro East Lutheran High School in Edwardsville, Ill., after earning a teaching certificate from Christ College (now Concordia University), Irvine, Calif.
He and his wife, Karen, have three sons.
David "Dave" Reichert, a member of the Lutheran Church of the Cross, Kent, Wash., is now serving his third term in the U.S. House, representing the state's Third Congressional District.
From 1972 until 2004, Reichert was with the King County, Wash., Sheriff's Department, most recently as Sheriff. He was instrumental in bringing national recognition to the department as head of the Green River Task Force that solved the largest serial murder case in U.S. history.
Reichert earned an A.A. in Social Work in 1970 from Concordia College (now University), Portland, Ore. He and his wife, Julie, are the parents of three grown children.
Cynthia Lummis, who is Wyoming's member-at-large to the U.S. House of Representatives, is a member of Trinity Lutheran Church, Cheyenne.
A ranch owner and attorney, she was the state's treasurer from 1998 to 2006. Previously, she served three different times in the Wyoming legislature – twice in the House of Representatives and once in the Senate.
Lummis earned both her Bachelor of Science (1978) and Juris Doctor (1985) degrees from the University of Wyoming. She and her husband, Al Wiederspahn, have a daughter.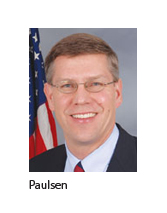 Erik Paulsen, representing Minnesota's Third Congressional District, is a member of Victory Lutheran Church, Eden Prairie. From 1995 until last year, he served in the Minnesota House of Representatives, and was the House Majority Leader (2003-07).
He began his career in public service as a legislative assistant in Washington for his predecessor, Congressman Jim Ramstad, later serving as director of Ramstad's Minnesota office.
Paulsen has 16 years of business experience, including with Target Corporation and Cable Value Network. He earned his B.A. in mathematics from St. Olaf College. Paulsen and his wife, Kelly, have four daughters.
Posted January 29, 2009