The Lutheran Women's Missionary League is now offering its 2010 "Serve the Lord with Gladness" pocket diary/calendar.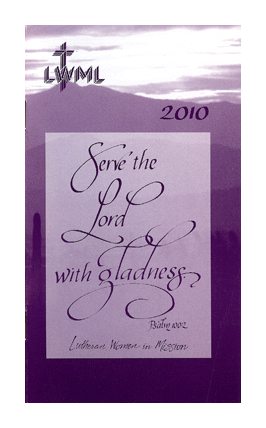 The pocket diary is small enough to fit in a pocket or purse and offers:
a place to record daily prayer requests and God's response to them.
reminders to be "Together in Prayer" for the LWML every Monday at noon.
Scripture readings for Sundays and festivals.
a list of LWML mission grants for 2009-2011, as well as prayers for these missions that spread the Good News of Jesus worldwide.
contact information for members of the LWML Executive Committee.
projected LWML meeting dates and district convention dates.
The LWML pocket diary is available for $2.50 each, or 10 for $2 each. A limited number with a purple vinyl cover are available for $3.50 each.
To order, contact the LWML office at 800-253-LWML (5965) or visit the auxiliary's Web site at www.lwml.org. Prices quoted do not include shipping charges.
Posted Oct. 15, 2009