By Linda C. Hoops
Jesus Is Lord Mission (JILM), an independent mission society whose membership is composed mostly of retired church workers, reached the $1 million mark in donatio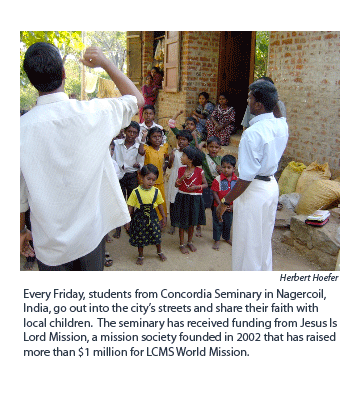 ns at the end of 2008.
"It took longer than we thought it would," said Dr. Glenn O'Shoney, former LCMS World Mission executive director and a member of JILM's organizing committee, "but today we have a million reasons to thank God, and the folks at LCMS World Mission for the trust they have shown us."
JILM was founded in July 2002 at the Walburg, Texas, home of O'Shoney and his wife, along with four other couples — "all who had a heart for world mission, reaching people with the Good News of Christ," he said.
As a response to budget cutbacks at LCMS World Mission that year that resulted in missionaries being recalled, support to national churches reduced, and staff downsized, the couples decided to create a mission society comprised solely of volunteers with no paid personnel. It would have only one partner: LCMS World Mission.
"Our goal would be that every dollar gathered would go to World Mission," O'Shoney said. "We would begin small and grow by each of us calling our friends and encouraging them to join us."
O'Shoney said the society relied on the reputation of its organizers to secure donations. "Otherwise, why would people send even a nickel to a post office box in the little town of Walburg, Texas?"
The organizers were Dr. Wil Sohns, former Wyoming District president and past member of the LCMS mission board, and his wife, Lyn; Rev. Walt and Ellen Harms, parish pastor and former missionaries to Japan; Dr. Lawrence Meissner, professor at Concordia University Texas, Austin, and former mission board member, and his wife, Yvonne; and the O'Shoneys — Glenn and Sandra.
Zion Lutheran Church in Walburg agreed to serve as the "host congregation" for the society, providing JILM office space, computers, "goodwill and prayers."
Today the society has 550 member families and organizations in 40 states who vote each year on what projects they wish to support. Each spring, JILM's steering committee meets with representatives of LCMS World Mission who bring a list of projects for the next fiscal year, July to June.
"We presently are asking LCMS World Mission to bring us projects that support church planting and the training of national workers, pastors, evangelists, and educators who will be most effective in reaching their people with the Good News," said Rev. John Heckmann, JILM president.
To make sure every gathered dollar goes to the project, the mission society adds five percent to every proposal submitted. A $20,000 project, therefore, becomes a $21,000 project to ensure that World Mission receives fair reimbursement for its work in preparing the list and the cost of its personnel, and the national churches get every cent of the agreed-upon support.
To date, JILM has given LCMS World Mission almost $950,000 for work in India, Vietnam, Nigeria, Kazakhstan, Afghanistan, Ghana, Sri Lanka, Papua New Guinea, Russia, the United States, Cambodia, the Philippines, Kyrgyzstan, and for work in more than one "closed country" and other places.
This year JILM is funding projects totaling $226,800 that include:
purchasing mission sites and funding "probationers" (vicars) to plant churches in India.
training national workers at Concordia Seminary in Nagercoil, India.
equipping national workers for outreach in Kyrgyzstan through Theological Education by Extension (TEE) and reaching people with the Gospel in Georgia, Asia.
planting churches in Sri Lanka and training national workers at Lanka Lutheran Seminary.
training national pastors and evangelists and equipping the national Lutheran church bodies in Papua New Guinea and the Philippines for outreach.
training pastors and evangelists in Guinea, West Africa, through TEE.
"Donors regularly tell us that they support us because they trust us," said Sohns. "They know their gift will fund the agreed projects, they know our volunteers will 'squeeze every penny' in favor of the mission, and they know we will hold World Mission and national church recipients accountable for every dollar.
"Our name is taken from Philippians 2: 'that every ear may hear and every tongue confess that Jesus Christ is Lord!,' and to this we say, yes!"
For more information about the mission society or to become a member, visit its Web site or send an e-mail to Heckmann at pastor@stpaulthegrove.org.
Linda C. Hoops is a freelance writer and a member of Lutheran Church of the Resurrection, Sunset Hills, Mo.
Posted March 11, 2009