A request is being issued for prop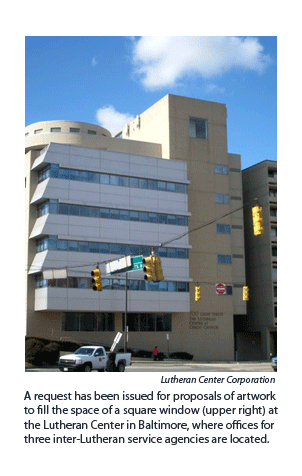 osals for artwork to commemorate the 10-year anniversary of the Lutheran Center in Baltimore, which houses headquarters for three inter-Lutheran service agencies and a Lutheran judicatory office.

Those agencies are Lutheran Services in America, Lutheran Immigration and Refugee Service, and Lutheran World Relief.

The chosen artwork will fill a 10-by-10-foot exterior window on the sixth floor of the building at 700 Light Street in Baltimore's historic Inner Harbor.

"Installations may be of any media and should both express the mission and values of the Lutheran organizations headquartered within, and engage the residents, tourists, and businesses of the Inner Harbor," according to an introduction to the request for proposals.

To express an interest in submitting a proposal, or for the full request for proposals and other information, send an e-mail by no later than May 31 to arts@lutherancenter.org.

Aug. 5 is the deadline for submitting proposals.
Posted May 13, 2009