Dr. John Brandt, executive director/principal of Valley Lutheran High School in Saginaw, Mich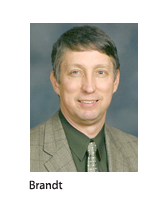 ., is the recipient of the Lutheran Education Association's (LEA) Christus Magister (Christ the Master Teacher) Award, the most prestigious of 10 awards LEA is giving this year to "affirm exemplary educators."

"Each award recognizes educational ministry characterized by strong commitment to serving Jesus Christ and excellence and effectiveness in teaching, leadership, and professionalism," according to LEA's Web site.

Brandt is the 51st person to receive the Christus Magister Award since LEA established the honor in 1965.

A 1977 graduate of Concordia Teachers College (now Concordia University Chicago) in River Forest, Ill., Brandt has been at Valley Lutheran High School since 1979, becoming principal in 1995 and executive director in 2000.
In 1988 and 1990, he was named as the Saginaw News "Dream Team" girls basketball coach of the year and boys basketball coach of the year, respectively. The Basketball Coaches Association of Michigan twice designated him a "Regional Coach of the Year."

Prior to joining the Saginaw high school faculty, Brandt was a teacher, coach, and athletic director at Atonement Lutheran School, Florissant, Mo.

"My greatest joy … is to hear from alumni who are making a difference for others," Brandt said concerning his ministry. "That difference may be on a global basis, or it may be at the level of raising children who are faithful to Christ. … Any accomplishments could never have been done without the dedication of a like-minded faculty that really cares for students on many levels."

The other 2009 LEA awards and recipients are:
Distinguished Lutheran Elementary Administrator — Gail Holzer, principal at Redeemer Lutheran School in Oakmont, Pa.
Distinguished Lutheran Early Childhood Teacher — Amy Neumann, preschool teacher at St. Paul Lutheran School, Mount Pleasant, Ill.
Outstanding New Lutheran Early Childhood Teacher — Leah Schmidt, first grade teacher, St. Luke's Lutheran School, Oviedo, Fla.
Leader in Outreach — Terry Schmidt, associate director of LCMS District and Congregational Services — School Ministry, St. Louis.
Master Director of Christian Education (DCE) — Jill Hasstedt, director of Family Ministry, Zion Lutheran Church, Belleville, Ill.
Outstanding New DCE — Sandi Grupe, director of Children and Family Ministry, Prince of Peace Lutheran Church, Carrollton, Texas.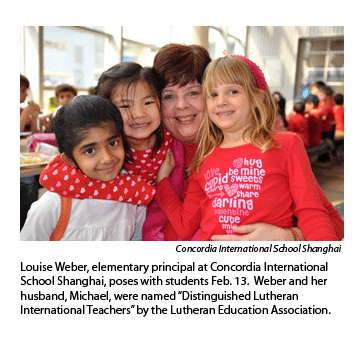 Distinguished Lutheran International Teachers — Michael and Louise Weber of Concordia International School Shanghai, China. Michael is director of technology, and Louise is elementary school principal.
Outstanding New Lutheran Elementary Teacher — Katrina Kloess, fifth grade teaching minister, Trinity Lutheran School, Tinley Park, Ill.
Distinguished Lutheran Secondary Educator — Jeffrey Daley, who retired Dec. 31 as principal of Luther High School North, in Chicago.
Any member of LEA may submit nominations for the Christus Magister Award, with the final choice of the award recipient made by the organization's Board of Directors. Members of LEA's professional peer groups nominate and select their respective award winners.

Along with all others who have received the LEA awards within the past three years, those named for the 2009 awards will be recognized at LEA's next triennial national convocation, set for March 24-26, 2011, in Cincinnati.

LEA — a Synod Recognized Service Organization with some 3,100 educator-members — is based in River Forest, Ill.
Posted Feb. 12, 2009