Collaboration between Concordia Theological Seminary and Lutheran Ministries Media (LMM), producer of a weekly "Worship for Shut-Ins" program, is resul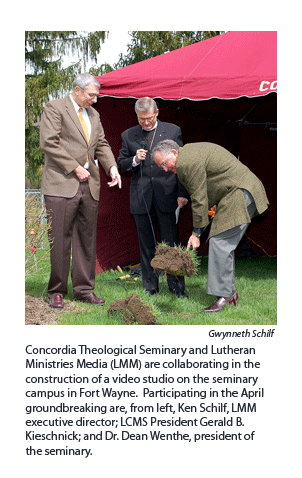 ting in a new television production center on the seminary campus in Fort Wayne.

Construction began this summer on a 2,000-square-foot video studio linking two buildings, formerly used for child care on the campus. At the same time, the existing buildings will be remodeled for LMM offices and volunteer service areas. The seminary has contributed funds to build the studio and LMM will provide a large portion of funding for both remodeling and new construction.

"Worship for Shut-Ins" is a half-hour Lutheran program that airs on the Total Christian Television satellite network, on more than 40 broadcast stations, and via webcast. The program includes Scripture readings, music by Lutheran groups, prayer, and a homily. The program has been videotaped at Holy Cross Lutheran Church in Fort Wayne since it began in 1980.

Ground was broken for the facility April 21. Participants were LCMS President Dr. Gerald B. Kieschnick, seminary President Dr. Dean Wenthe; Indiana District President Dr. Daniel May, and LMM Executive Director Kenneth Schilf.

"Our need for more production space and our desire to fully implement the use of new digital production equipment compels us to move from our current site on the Holy Cross campus," said Schilf. "The seminary campus is the ideal place from which to produce our televised Lutheran worship program. I think it's going to be a win-win for both of us."

In April, the seminary used LMM equipment to provide a live webcast of the vicarage and candidate call services. The capability to record or webcast events, such as theological symposiums, is likely to be among the main uses, according to Dr. Douglas Rutt, associate professor of pastoral ministry and missions and dean of distance learning. "And we will have an outfitted studio on campus that we can use, for example, to make a training video or produce a demonstration of preaching or conducting the liturgy."

Schilf said the studio will enable LMM to achieve consistent quality and save labor. Videotaping at Holy Cross required set-up and take-down of lighting and cameras each time a program was produced. "It gives us the possibility in the future to explore other programs," Schilf added.

The collaboration is a way to be "wise stewards of what the people of God have given us," commented William Johnson, educational technology specialist at the seminary. He said the seminary was exploring video capabilities in order to produce videos and place resources and event information online.

Rutt also hopes that future students may be able to produce media projects as an alternative to producing term papers for courses. "They can make use of this rich media for the purpose of the proclamation of the Gospel," he said.

"Worship for Shut-Ins" is available on the Direct TV Network, and Schilf said LMM hopes to be on the DISH network in a few months. "And we're always looking to add new local stations," he added. "I welcome anybody to call us on our toll-free number [888-286-8002] to explore how we might make it happen in their area."

LMM is a Recognized Service Organization of the LCMS.
Re-posted Sept. 4, 2009