By Linda C. Hoops
From ages 1 through 91, they came to serve their community for one weekend in early August. Through projects ranging from raising a barn to packaging almost 50,000 meals, 435 members of Carmel Lutheran Church, Carmel, Ind. — on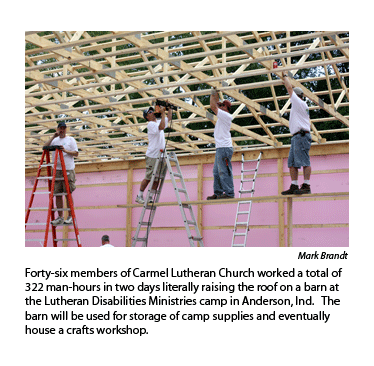 e-third of the worshipping congregation — volunteered to help their community through a project titled "Blitz Indy."
Melissa Luepke, Carmel's director of Christian education, served as one of the leaders of the effort, along with Outreach Team Leader David Reed and Rev. Daniel Schumm, outreach minister.
"It was phenomenal to see how many people gave up their weekends to help others in the community," she said.
Among the projects the volunteers worked on were:
building a barn at the Lutheran Disability Ministries camp in Anderson, Ind.
landscaping 10 acres at a shelter for young women in Noblesville, Ind.
buying and wrapping Christmas gifts for Operation Christmas Child, an organization that distributes gift-filled shoe boxes for children worldwide.
packaging close to 50,000 six-person casserole meals (to feed 300,000 people) for Kids Against Hunger, an organization that distributes food worldwide.
collecting 4,000 pounds of groceries for delivery to five area food pantries.
partnering with an inner-city church to conduct a canvassing effort, vacation Bible school, and an afternoon festival.
Although Carmel Lutheran Church does many outreach events throughout the United States and abroad, Luepke said the theme of this event — "Think Eternally, Act Locally" — stressed the need for outreach not only abroad but right in one's neighborhood.
"Within three miles of our church, there is a food pantry that is in desperate need of food. Within 10 miles of the church are people who may go hungry today," she said. "This event demonstrated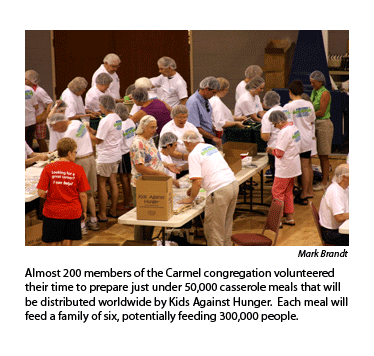 we don't have to spend $1,000 to go 1,000 miles to help people. There are people who can use our assistance living right next door."
This year's "Blitz" was built on an event held last year that involved the church's youth group going to Emmaus Lutheran Church, an Indianapolis inner-city congregation, to construct a playground, install basketball hoops, lead a Bible study, and host a festival. As a result of those efforts, new families joined Emmaus, and the playground has helped to bring community members to the church campus.
"What began as erecting some basketball hoops expanded to erecting a barn! What began as delivering some boxes of food to the neighbors expanded to delivering 4,000 pounds of food to five areas of Marion and Hamilton Counties," Luepke wrote in a review of the weekend.
The congregation already is looking to expand next year's event. Outreach team leaders have contacted the LCMS Indiana District office in hopes of getting 10 other congregations in the state to conduct servant blitzes in their communities.
"Blitz Indy is a celebration of the Holy Spirit's work in us and how we are daily being built toward maturity in Christ," Luepke said in her review. "It was a weekend that showed how everyone can be involved in ministry. From the very young to the very mature, people were able to put faith into action and be a part of ministry."
For more information about conducting a Blitz, contact Luepke mluepke@carmellutheran.org, or call 317-814-4252.
Linda C. Hoops is a freelance writer and a member of Lutheran Church of the Resurrection, Sunset Hills, Mo.
Posted Sept. 2, 2009