Concordia Publishing House has received certification as a "Center of Excellence" by Benchmark Portal and the Purdue University Center for Customer-Driven Quality.
The award recognizes the CPH Customer Call Center as ranking in the top 10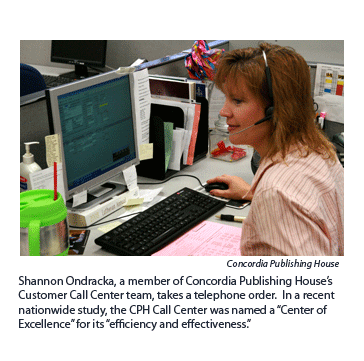 percent of 20,000 nationwide call centers studied for efficiency and effectiveness.
Participation in the program "demonstrates Concordia's ongoing commitment to achieving service excellence in the most cost-effective ways possible," said Jeffrey Johnson, customer service manager for the company. "Said another way, it's good stewardship by this company on behalf of the congregations, schools, and individuals we serve."
Johnson called the award "a testament to the entire customer service team. It was a team effort. We are proud of the entire group."
CPH's Customer Call Center averages more than 98,000 calls per year. Calls are managed by eight full-time employees. More than 95 percent of CPH customers give their experience with the Call Center a perfect score for overall satisfaction, according to the publishing house.
"We are proud of the CPH team," said CPH President and Chief Executive Officer Bruce G. Kintz. "This recognition is a clear affirmation of their dedication to our mission and vision."
Kintz said CPH exists "to strengthen and support" congregational ministries, and "excellence in service at all levels is essential in pursuing that mission."
For more information about CPH — and the 8,000-plus products it offers — visit its Web site at www.cph.org or call 800-325-3040.
Posted March 11, 2009