Concordia Publishing House is offering puppets from its past vacation Bible school programs at a special price.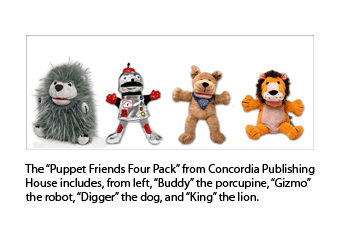 The first 200 customers to order the "Puppet Friends Four Pack" will receive four puppets for $34.99. The puppets regularly cost about $20 each.
Included in the package are puppets "Gizmo" the robot, "Buddy" the porcupine, "Digger" the dog, and "King" the lion.
To order the Puppet Friends Four Pack (item no. 32-0802WEB), call CPH at 800-325-3040 or visit its Web site at www.cph.org (type the item number into the "search" box). Price quoted does not include shipping charge.
Posted Dec. 9, 2009