Eastern
June 12-13
Williamsville, N.Y.
Elected:
Dr. Chris C. Wicher, Cheektowaga, N.Y., president, first term, first ballot.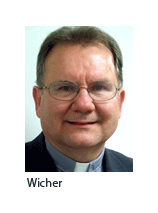 Wicher, 52, pastor of St. Luke Lutheran Church, Cheektowaga, had been the district's first vice president since 2006. Installed along with other district officers during the convention, Wicher succeeds Dr. John Brunner, who announced that he was retiring as district president after serving in the post since 2000.
Rev. Art Litke, Glenshaw, Pa., first vice president, Pittsburgh Region.
Rev. Karl Haeussler, North Tonawanda, N.Y., second vice president, Buffalo Region.
Rev. Kim Bode, Hop Bottom, Pa., third vice president, Philadelphia Region.
Rev. David Bernard, Cohocton, N.Y., fourth vice president, Rochester Region.
With the convention theme of "Transforming Lives for Time and Eternity" (based on 2 Cor. 3:18), delegates to the 96th Eastern District convention resolved to:
call for a districtwide "day of fasting, prayer, confession, and repentance" on Reformation Day (Oct. 31) this year, "seeking the leading of the Holy Spirit to become a district Ablaze! with genuine personal zeal for the lost." The action notes that many congregations in the district and Synod "have difficulty in establishing effective strategies to reach the unchurched and unsaved in their communities" and states that Eastern District congregations "recognize as unacceptable our corporate and individual response to Jesus' invitation to reach those lost and dying in unbelief." It also resolves to memorialize the 2010 Synod convention to set aside a similar day of fasting, prayer, confession, and repentance throughout the church body for Reformation Day of next year.
ask the district's Department of Mission Services to explore establishing a lay-missionary training program and develop a "corps of mentors and coaches" to help congregations work toward developing a mission focus.
encourage evangelism to Jewish people by asking district congregations to "pray for the salvation of the Jewish people," increase financial support "for Lutheran ministry to the Jews, and follow the evangelism priority of Rom. 1:16."
Posted June 17, 2009