By Paula Schlueter Ross
When T-Mobile approached Dr. Doug Fountain at Epiphany Lutheran Chu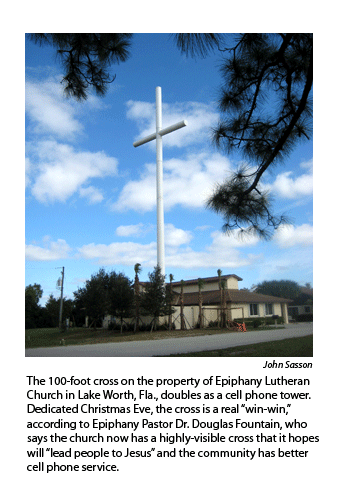 rch in Lake Worth, Fla., to see if the pastor would be open to the installation of a cell phone tower on the church's property — and the company's representatives said they could make it look like anything — Fountain had an idea.
"Could you make it a cross?" he asked.
"We can do whatever you want," responded T-Mobile staff. And with that, the gleaming white cross/cell phone tower was conceived.
"Powered up" Christmas week and dedicated Christmas Eve, the huge, new cross — 100 feet tall and 30 feet wide — is definitely a "win-win" deal for everyone involved, according to Fountain.
"We get a beautiful 100-foot-high cross that can be seen from a long way off," he said, and "T-Mobile gets a cell tower that is appealing to the eye, serves the community, and meets their coverage needs."
Epiphany's cross isn't the only LCMS structure in the area that doubles as a cell phone tower. In nearby Boynton Beach, Fla., Son Life Lutheran Church has a bell/cell phone tower that was built in 1996 by BellSouth Mobility.
At 125 feet in height — and sporting an LCMS logo cross on all three sides — Son Life's working bell tower is toda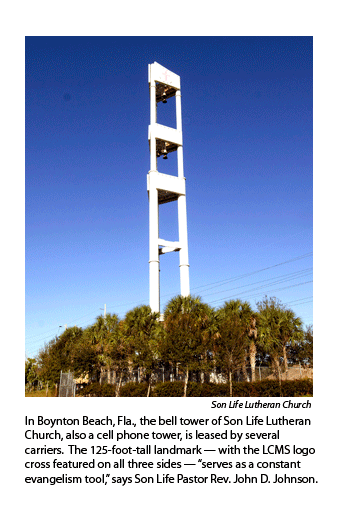 y leased to several cell phone carriers, bringing in a monthly income that has been used to support a "sister" congregation, supply local food pantries, and assist congregation members with mission-trip expenses.
Son Life Pastor Rev. John D. Johnson says allowing the installation of the bell tower "was a good decision, primarily because we have a landmark that serves as a constant evangelism tool — with the cross appearing on all three sides — and it has served to support financially our mission in this part of God's kingdom."
Fountain, of Epiphany, Lake Worth, says his congregation is "thrilled with the whole [cross] project," and he's only heard of one objection, from a neighbor (not an Epiphany member), "who said she couldn't believe that she was going to have to look at a cross all the time."
Although the congregation didn't make its decision because of the money, it receives about $1,800 in rent from T-Mobile each month. Those funds may be put toward a new sanctuary the church hopes to build one day.
The huge cross is illuminated at night, and Fountain says "it is our prayer that it will lead people to Jesus."
The news coverage of the unusual cell phone tower "has been fantastic," adds the pastor, "and hopefully, it will reach another soul for Jesus. What a blessing!"
Posted Dec. 30, 2009