Dr. George Bruening, LCMS Kansas District president from 1978 to 1986, died July 20 at a hospice facility in Topeka, several months after being diagnosed with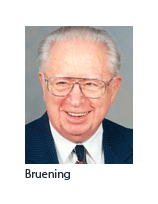 aggressive melanoma. He was 93.

The funeral service was held July 24 at Faith Lutheran Church, Topeka, with interment immediately following at Mount Hope Cemetery in Topeka.

A 1941 graduate of Concordia Seminary, St. Louis, Dr. Bruening first helped establish Lutheran congregations in Georgia and Florida. In the mid-1940s, he was chaplain and translator to German war prisoners in Louisiana, and served as chaplain at the only federal leprosy colony in the country from 1948 to 1979. Prior to his district presidency, he was pastor of Lutheran congregations in Louisiana, Utah, and Kansas.

He received an honorary doctorate from Bethany College, Lindsborg, Kan., in 1982.

After his district presidency, he was assistant pastor at Faith Lutheran Church, Topeka (1982-96), and was chaplain for Menninger State Hospital there. Dr. Buening also edited the Kansas District's Lutheran Witness insert for 13 years, and was the district's archivist for 16 years.

Until June of this year, he led monthly worship services at Thornton Place, a Topeka retirement community where he had lived since 2002.

Survivors include one daughter, Delores (Richard) McKinney of Henderson, Nev.; a sister, Lucille Hill of Elgin, Ill.; and several nieces and nephews. His wife of 60 years, Lourine, died in 2002.

The family suggests that memorials be directed to either Faith Lutheran Church, Topeka; Topeka Lutheran School; or Concordia Historical Institute in St. Louis.
Posted July 29, 2009