The birth of octuplets to a Southern California mother who already had six children also conceived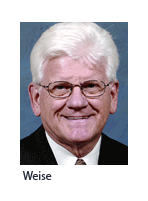 by in-vitro fertilization spotlights a "slippery slope " to be explored at a March 26 forum on science and theology at Concordia Seminary, St. Louis.
"This type of abuse of in-vitro fertilization brings to the forefront a slippery slope — the abuse of assisted reproductive technology in dehumanizing the marital union between a man and a woman — where children have become a product and a commodity instead of a gift from God," said Dr. Robert W. Weise, a professor of practical theology and cellular biologist, who will speak at 7 p.m. on the topic, "Will Adam Go AWOL? Will Eve?"
"This abuse clearly demonstrates how the sanctity of marriage has shifted from a one-flesh union between husband and wife to the laboratory," Weise continued. "In this case and others, Adam certainly has gone AWOL (absent without leave)."
In his presentation, Weise will explore the theological, social, and scientific ramifications of reproductive technologies used outside procreation, which he defines as the gift of a child through marriage or adoption. One example of those troubling results is concern about the health and potential special needs of children such as the Southern California octuplets whose January birth made front-page news. Another ramification is what Weise calls "the probable emergence of a new post-human species bred in test tubes without the involvement of parents but with computer technology and artificial wombs."
Billed somewhat tongue-in-cheek as a "Forum on Planned Non-Parenthood," the event is presented by the Center for Lutheran Theology and Public Life (CLTPL) and LCMS World Relief and Human Care (LCMS WR-HC). The sponsors hope both church professionals and laypeople will take advantage of the opportunity to learn about the growing number of "scientific schemes that bypass the Creator and produce humans as a designer-made commodity."
Weise urges fellow LCMS members tempted to dismiss biotechnology issues as irrelevant to get informed and speak up "at the water cooler" and with those who represent them in Congress.
"This has everything to do with the value of human life and what it means, as a Christian, to care for the weakest among us," said Weise, who also serves as a member of the LCMS Sanctity of Human Life Committee, under the auspices of LCMS WR-HC.
Weise also cites President Obama's willingness to increase funding for embryonic stem cell research, which, he says, has the potential to increase demand for "leftover or spare embryos."
"People need to know that making babies in test tubes goes beyond fertility clinics to institutional research labs funded by taxpayer money," he said.
The forum is the second in a series of science and theology conferences presented by the CLTPL, a seminary affiliate whose mission is to project Lutheran thought into the secular realm. Dr. Uwe Siemon-Netto is the CLTPL director.
The conference is free, but registration by March 19 is required. For more information, contact the seminary at 314-505-7486, ce@csl.edu, or visit www.csl.edu.
People unable to attend the conference but who want more information on life issues from a Lutheran perspective can visit LCMS Life Ministry at www.lcms.org/life.
Posted March 4, 2009