Grace Place Lutheran Retreats honored Dr. David and Kathy Ludwig of Hickory, N.C., for the couple's "passionate concern and active and energizing commitment to the health and wholeness of Lutheran church workers and their families" a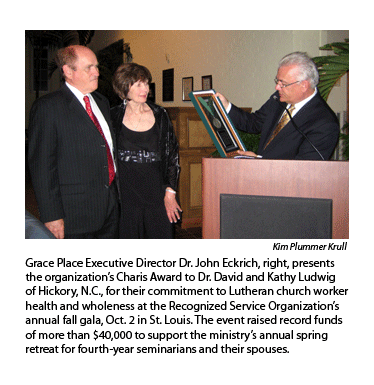 t the Recognized Service Organization's sixth annual gala, Oct. 2 in St. Louis.
Grace Place Executive Director Dr. John Eckrich presented the Ludwigs with the organization's Charis Award, noting that the couple has served church workers throughout the world and in almost every LCMS district. (Charis is the Greek word for "grace.") David Ludwig is Grace Place associate director of retreat programs, and the couple has led retreats throughout the world with the St. Louis-based ministry.
David Ludwig also serves as associate pastor at Christ Lutheran Church and is professor emeritus at Lenoir-Rhyne University, both in Hickory. Kathy is a retired teacher and active volunteer in her church and community.
The gala raised record funds of more than $40,000 to support the annual Grace Place spring retreat for fourth-year seminarians and their spouses.
Eckrich, a longtime internal medicine physician, founded Grace Place (www.graceplaceretreats.org) in 1999 after years of treating church workers and their families and recognizing how ministry challenges lead to health problems and professional burnout.
More than 2,500 Lutheran pastors, teachers, seminarians, and spouses have participated in Grace Place retreats to recharge spiritually and physically and learn biblically based personal and professional growth tools.
Posted Oct. 21, 2009