The Synod's Board for Campus Ministry has appointed Jon E. Jensen of St. Louis as interim execut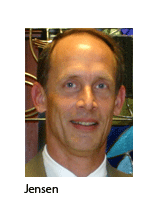 ive director of the Lutheran Campus Ministry Association (LCMA), an LCMS-affiliated mission society also known as LCMS Campus Ministry.
Jensen, a member of the campus ministry board since 2006, began work in the part-time position July 1.
"Having worked closely with Jon over the last three years has made this an easy decision for the board and a smooth transition for the organization," said board Chairman Rev. David Dressel. "We are excited about how this ministry is moving forward under Jon's leadership to serve our church body, particularly our students and constituents on campuses across the country."
Jensen most recently served as director of Ministry Advancement for Lutheran Hour Ministries and as president of the Lutheran Hour Foundation.
The LCMA, or LCMS Campus Ministry, serves the campus-outreach efforts of more than 170 full-time and 600-plus part-time Lutheran ministries at colleges and universities nationwide with education, mentoring, new ministry start-ups, ministry revitalization, strategic planning, fundraising, and other outreach and student-supporting programs.
The organization works closely with and provides financial support for the efforts of International Student Ministry Inc. — an LCMS-recognized mission society that reaches out to international students on more than 90 U.S. campuses — and Lutheran Student Fellowship, the national organization for Lutheran college students, with about 220 local chapters.
To connect a student with an LCMS pastor or campus ministry worker, visit the LCMA/LCMS Campus Ministry Web site at www.lcma.info and click on "LCMA StudentConnect."
For more information, Jensen may be reached at 314-497-2400 or campusmission@yahoo.com.
Posted Aug. 18, 2009