Kansas
June 4-6
Topeka, Kan.
Elected:
Rev. Keith E. Kohlmeier, Topeka, president, third term, first ballot.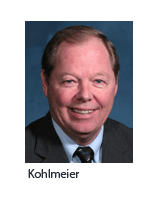 Rev. Edward Trost, Overland Park, Kan., first vice president, Region 1.
Rev. David Meier, Humboldt, Kan., second vice president, Region 3.
Rev. Randall Jahnke, Dodge City, Kan., third vice president, Region 4.
Rev. David Gruoner, Linn, Kan., fourth vice president, Region 2.
Under the theme, "Encourage, Raise Up, and Motivate One Another in Christ," from the Acts of the Apostles, delegates voted to:
commend congregations for their efforts to the Synod's Ablaze! and Fan into Flame initiatives, and encourage those congregations not yet involved to establish new outreach sites and ministries to reach unchurched people in Kansas.
extend the district's partnership with LCMS World Mission to support missionaries and mission work in Guinea, West Africa, through July 1, 2012. That partnership began at the district's 1997 convention.
add another term for the office of district president, extending term limits from three (nine years) to four (12 years).
authorize the district to form a task force to evaluate its work with the Nebraska and Oklahoma Districts and to consider "where we might increase our collaboration and partnership in ministry" so that the districts "make the best use of God-given resources and cooperative work where it best serves each district and the work of our Lord together."
ask the Blue Ribbon Task Force on Synod Structure and Governance to complete its final report to LCMS congregations by Oct. 15 so that congregations will have time to consider the recommendations prior to the 2010 Synod convention.
support family ministry, youth discipleship, and LCMS youth ministry.
Posted June 10, 2009