New Jersey
June 4-6
Swedesboro, N.J.
Elected:
Rev. William R. Klettke, Wrightstown, N.J., president, fourth term, fir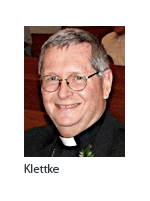 st ballot.
Rev. Paul Kritsch, Scotch Plains, N.J., first vice president.
Rev. Stephen Gewecke, Lambertville, N.J., second vice president.
Rev. Dennis Rockett, Mahwah, N.J., third vice president.
Under the theme "Chosen for a Purpose," delegates voted to designate the offering from the opening worship service to support the ministry of Rev. James Buckman, who was installed at the service as urban mission strategist for the Newark area. Buckman's work will focus on establishing home Bible study groups and developing leaders from among the various ethnic immigrant groups in the area.
Other convention highlights included:
presentation of the district's "Servant of Christ" award to retiring Board of Directors Chairman Ray Visbeck, who served in the position for the past six years. The award is given to individuals who have "selflessly given their time, energy, and efforts to support and encourage the ministries, congregations, and people of the New Jersey District."
a keynote address by Dr. Robert Scudieri, associate executive director of LCMS World Mission's National Mission Team.
Posted June 10, 2009