Lutherans For Life (LFL) is offering two catalogs with resources that promote pro-life ministry: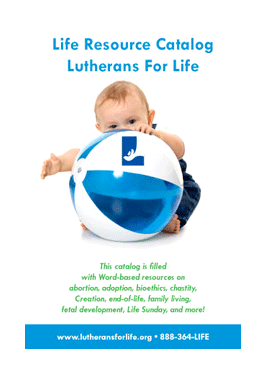 The Life Resource Catalog lists a wide variety of LFL's "Word-based resources" on abortion, adoption, bioethics, chastity, Creation, end-of-life issues, family living, fetal development, "Life Sunday," and more.
A new Summer 2009 "mini-catalog" includes information on LFL's new curriculum for grades pre-K through 8, "Teaching For Life," and brochures for Father's Day – "Faithful Fathers" and "Biblical Manhood."
Both catalogs are available in print and as a downloadable PDF from the LFL Web site at www.lutheransforlife.org/catalog/catalog.htm.
For more information about Lutherans For Life and its resources, call 888-364-LIFE (5433) or via e-mail at orders@lutheransforlife.org.
Posted June 17, 2009