February's Reporter included an article about the Jan. 1 death of Rev.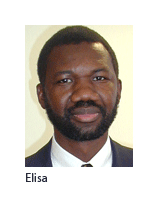 Andrew Mbugo Elisa, bishop of the Evangelical Lutheran Church in Sudan. Rev. Elisa died as the result of an aggressive brain-stem tumor.
Survivors include his wife, Linda, and their four children — ages 8 to 19.
Memorial gifts to help cover considerable expenses of Rev. Elisa's medical care and funeral may be mailed to Lutheran Heritage Foundation, 51474 Romeo Plank Road, Macomb, MI 48042. Note "Andrew Elisa Memorial" on the memo line of checks.
To donate online, go to www.lhfmissions.org, click on the story about Rev. Elisa, and then on the "Donate Now" button.
Posted April 9, 2009