Though all the seats are reserved for the "Road Trip for Life" bus ride from Indiana to the Jan. 22 "March for Life" in Washington, D.C., the offer still stands for those planning to join the Lutheran march del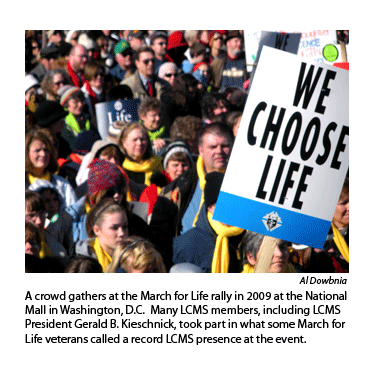 egation to stay for up to two nights free in the homes of Washington-area Lutherans.

Lutheran marchers can begin the day with a 9 a.m. worship service at Immanuel Lutheran Church in Alexandria, Va., with Rev. Matthew Harrison, executive director of LCMS World Relief and Human Care (WR-HC), delivering the sermon. A brunch will follow at the church. The pre-march rally begins at noon on the National Mall, and the march from there to the U.S. Supreme Court building is expected to end about 3 p.m.

The bus ride announced in the December Reporter is being hosted by LCMS Life and Health Ministries Director Maggie Karner, whose department is co-sponsoring it with Advent Lutheran Church in Zionsville, Ind.

This year's march marks the 37th anniversary of the 1973 Supreme Court decision that legalized abortion.

To arrange for the free lodging and for other information about the march, contact Dennis Di Mauro, organizer of the Lutheran march delegation for the 12th year and leader of the Lutherans For Life (LFL) chapter in northern Virginia, at 703-568-3346 or dimauro.dennis@gmail.com.

Karner, Di Mauro, and other Lutheran pro-life leaders have called participation in the 2010 march important, particularly with sanctity-of-life issues debated as part of the health-care reform legislation.

"As a united group that feels strongly about an issue that affects all of humanity, we must work hard to keep this issue in front of the public eye," said Karner.

Even those who can't travel to the march can get information and photos online of Lutherans participating in the march at www.lcms.org/marchforlife.

LCMS Life and Health Ministries, a WR-HC program area, also offers downloadable, reproducible worship and education resources online at www.lcms.org/?14405 to help congregations observe Sanctity of Human Life Sunday on Jan. 17 or at some other time.

And new Life Sunday bulletin inserts, a Bible study, sermons, and a children's message also are available from Lutherans For Life (LFL). For more information, visit the LFL Web site at www.lutheransforlife.org or call 888-364-5433.
Posted Dec. 23, 2009