The Lutheran Women's Missionary League is offering for a special sale pric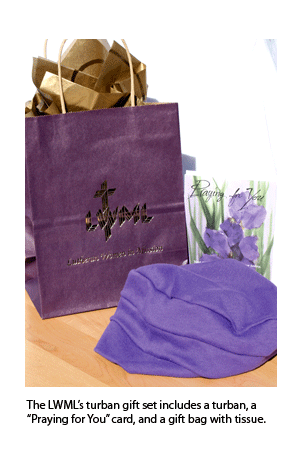 e its turban gift sets.
The purple, three-seam turban hat (item no. 10015) is designed for cancer patients who are going through chemotherapy, and comes with a "Praying for You" card, envelope, and gift bag with tissue paper.
One to four turban gift sets are available for $20 each, and five or more may be purchased for $16 each. But now through Nov. 30 you can get five sets for $60 — a savings of $20 over the regular $80 price. (Shipping is extra.)
Multiple sets may be purchased and donated to local cancer treatment facilities, or given to congregation members who are going through treatment.
To order, contact the LWML's St. Louis office at 800-252-LWML (5965) or visit http://shop.lwml.org (type 10015 in the "Search" box).
Posted Nov. 25, 2009