The "Men's NetWork," a ministry of Lutheran Hour Ministries, has released How We Got the Bible, a five-lesson, video-based Bible study featuring Dr. Paul L. Maier.
The new study takes an in-depth look at how the Bible was written and translated, and Maier shares his expertise on biblical history and the inspiratio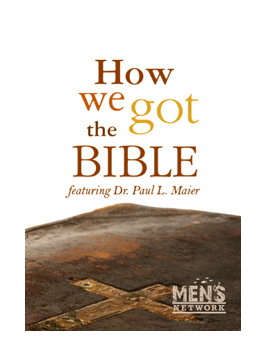 n behind God's Word. Maier is professor of ancient history at Western Michigan University, Kalamazoo, Mich.; an author; and the Synod's second vice president.
Joining Maier in the video is Joel Lampe, manager of The Bible Museum in Goodyear, Ariz. Together they examine ancient manuscripts and rare Bibles from the museum's collection.
Offering additional commentary are Bruce Wurdeman, LHM's executive director, and Dr. Jeffrey Kloha, associate professor of exegetical theology at Concordia Seminary, St. Louis.
How We Got the Bible may be viewed and downloaded free from the Men's NetWork Web site at www.lhmmen.com.
Other Bible studies available from the site include:
Challenge of Islam (Part One): What is Islam? and Challenge of Islam (Part Two): Defending the Christian Faith, both by Sam Shamoun.
Out of Nothing: The Word, Creation and Faith, by Rev. Steve Misch.
He Who Dies with the Most Toys … Still Dies!, by Rev. Tim Radkey.
Who Am I? What Am I Doing Here?, by Dr. Joel D. Biermann.
Home Run King, by Rev. Tim Radkey.
In addition to being available free for online viewing and download, all the Bible studies also may be ordered in DVD format for $15 each, plus $1.80 per study for shipping.
Posted Sept. 9, 2009