Dr. John Nunes, president of Lutheran World Relief (LWR), Baltimore, will address "Finite and Infi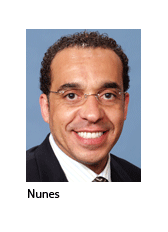 nite Games," the theme of "Lutherhostel 2009," presented Oct. 3-6 by Concordia Seminary, St. Louis.
The event is designed for adults ages 55 and older to provide growth in biblical knowledge and understanding, fun and fellowship, and an opportunity to "gain helpful insights for daily living."
Lutherhostel activities will include a reception and dinner with seminary President Dale Meyer and his wife, Diane; presentations; visits to classes; student-led evening devotions; a demonstration of the organ in the seminary's Chapel of St. Timothy and St. Titus; and a tour of St. Louis-area sites. An optional tour of Lutheran historical sites in Perry County, Mo., is available Oct. 7.
Registration is $325, which includes all meals and refreshments. Housing is available on campus, on a limited basis, or in nearby hotels. Deadline for registration is Sept. 18.
For more information, contact the seminary's Office of Continuing Education and Parish Services at 314-505-7486 or ce@csl.edu.
Posted Aug. 18, 2009