Concordia Plan Services (CPS) has announced it will offer healthcare coverage to students (and their families) at the Synod's two seminaries — Concordi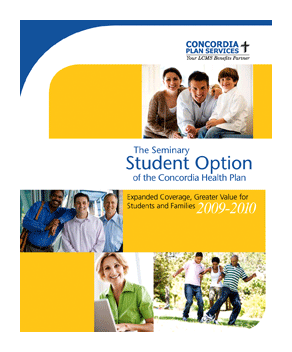 a Seminary, St. Louis, and Concordia Theological Seminary, Fort Wayne, Ind.
According to a CPS press release, the plan, which has been under development for more than a year, will provide "improved, affordable, and comprehensive coverage that will meet the needs of students and their families. It also will ease the transition from the student plan into the Concordia Health Plan for active workers upon graduation."
In the past, the two seminaries worked separately with independent brokers to provide limited health insurance for their students. Under the new Concordia Health Plan, seminary students and their families will receive the same comprehensive healthcare components that are available to active LCMS workers at a cost similar to what they had been paying for the independent coverage.
The additional coverage will include preventive medical and dental services, dental care benefits, expanded prescription drug coverage, an employee assistance program, vision care, hearing care discounts, behavioral health benefits, and health and wellness programs.
"We are very enthused about the amount of collaboration and concern which has generated so much fruitful planning and discussion with both seminaries over the past couple years to bring this wonderful plan to fruition," said Rev. Timothy R. Puls, assistant vice president for church relations at the Fort Wayne seminary.
All seminary students, including those in the deaconess program, with seven credit hours or more are required to have health coverage during their enrollment at the seminaries. There are exceptions for students who qualify as eligible "opt-outs" by having coverage, for example, through a spouse's or parent's group health plan.
The effective date for the plan, which will cover the 2009-10 school year, is Aug. 1, 2009, for returning students and Sept. 1 for new students. Students can purchase the plan for themselves only, or for their spouses and/or dependent children as well.
Blue Cross Blue Shield of Minnesota will administer the medical benefits, Express Scripts Inc. will manage prescription services, while CIGNA HealthCare will administer the dental and mental health benefits and wellness programs. Vision Service Plan (VSP) and HearUSA will administer the vision and hearing care programs, respectively.
Coverage can continue during periods of vicarage, internship, or foreign study. In addition, students and eligible dependents will be able to keep their coverage up to 12 months following graduation if the graduate is working on a dissertation or waiting for a call.
For more information, visit www.concordiaplans.org or call 888-927-7526.
Posted April 6, 2009