Groups interested in participating in a 2010 LCMS Servant Event may begin registering now.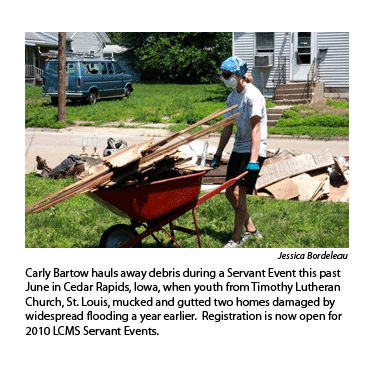 For that process, check the list of available Servant Events at www.lcms.org/youth/servantevents, choose an event, and follow the "How To Register" steps on the Web site.
Servant Events sponsored by LCMS District and Congregational Services — Youth Ministry provide opportunities for youth to learn that serving others can make a difference because of Jesus Christ.
In 2010, a variety of Servant Events will take place across the country and one is scheduled in Costa Rica.
Event opportunities include construction, human care, environmental, outreach, multicultural, crisis, and family events. "All of our events include Bible study, group building, and connection with other Christian youth," said Jim Lohman, associate director of Servant Events with LCMS Youth Ministry. "They are an excellent opportunity for youth to grow in their faith as they live what they believe."
LCMS Servant Events have been held for more than 25 years. And participants say that lives have been changed as a result of them.
Eric Gerken, a director of Christian education at Trinity Lutheran Church in Fremont, Neb., says he has seen first-hand how Servant Events have an impact on the lives of youth. Young people from his congregation participated in the Joyful Hearts Camp this past summer at Camp LuWiSoMo in south Wisconsin, where they served mentally and physically disabled campers.
"Our youth jumped into the project with enthusiasm and embraced the idea of serving God by serving others," Gerken said. "It was difficult, as many of the campers had needs beyond what our youth anticipated, but they were mature and made a decision to put others before themselves. It has had a lasting effect, in that I see more service-oriented attitudes in how they live life daily," Gerken said.
At the Cedar Rapids Flood Relief event through Camp Io-Dis-E-Ca – also this summer — Jessica Bordeleau, part-time youth worker at Timothy Lutheran Church in St. Louis, saw significant spiritual growth in one of her youth.
"Shannon had been coming regularly to Bible Study and youth activities for a while," Bordeleau said. "He came with his buddy on the weeklong Servant Event. At the end of the Servant Event, he asked if he could be baptized. His parents, who are religiously indifferent, wanted him to think about it for two more weeks before doing it, but they were open to the idea. Shannon was committed to it and was baptized in August. Praise God!"
Posted Oct. 21, 2009