Future cultural values, education, transforming congregations, partnerships, church planting, and stewardship will be topics for the Reaching Rural Americ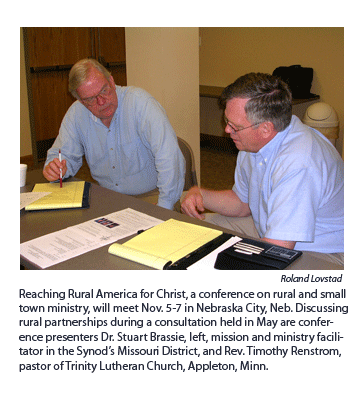 a for Christ Conference Nov. 5-7 at the Arbor Lodge Lied Conference Center in Nebraska City, Neb.
Described as an event "for those living in the country with a passion for the lost," the conference is co-sponsored by the LCMS National Mission Rural Small Town Committee and Saint Paul Institute for Education (SPIFE), Concordia, Mo. The program is designed for professional workers and lay leaders in communities with fewer than 15,000 population or are economically supported by agriculture, mining, forestry, fishing, or tourism.
The conference will include these practical learning groups and facilitators:
Future rural cultural values — Dr. Randy Cantrell, University of Nebraska School of Agriculture.
Christ-centered education for children and youth in rural and small town settings — Rev. Bob Riggert, executive assistant for education, youth, and stewardship, LCMS Iowa District West, and Terry Schmidt, associate director of schools with the LCMS Board for District and Congregational Services.
Transforming rural and small churches — Rev. Richard Boring, assistant to the president for district ministries, LCMS Nebraska District, and Dr. Terry Tieman, director of the Transforming Churches Network.
Regional ministry partnerships — Rev. Tim Renstrom, pastor, Trinity Lutheran Church, Appleton, Minn., and Rev. Gary Griffin, pastor, Immanuel Lutheran Church, Lockwood, Mo.
Outreach and church planting — Rev. Scott Snow, director of national outreach, LCMS Board for Mission Services.
Biblical, personal, and congregational stewardship — Dr. Stuart Brassie, mission facilitator, Missouri District, and Rev. Wayne Knolhoff, director of Stewardship Ministry, LCMS Board for District and Congregational Services.
The conference begins at 1:30 p.m. on Nov. 5 and concludes at 1 p.m. Nov. 7.
Registration is $325 for two nights lodging (double occupancy), six meals, a banquet, and all materials. (Single rooms are an additional $65.) Registration is limited to 130 participants.
To register, call SPIFE at 888-463-5127. The deadline is Oct. 2.
Conference planners are Rev. Russ Sommerfeld, president of the LCMS Nebraska District and chair of the National Mission Rural Small Town Committee; Dr. Ray Mirly, president of the Missouri District; and Dr. Ralph Geisler, SPIFE interim director and national rural small-town catalyst coordinator.
Posted July 9, 2009