When people ask Evan Goeglein what he did on spring break, the Concordia Theological Seminary (CTS) student can offer a most unusual response.
He trekked to an African country on the brink of civil war and visited, a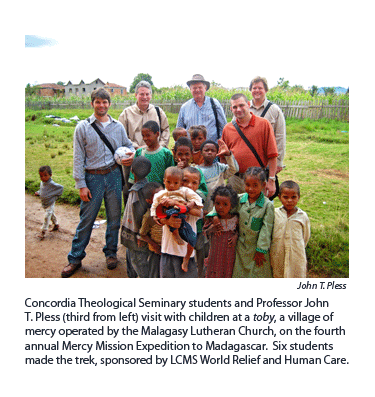 mong other Lutheran ministry sites, a leper colony.
"It's not the answer people expect, but this was an experience I would not want to have missed," said Goeglein, one of six CTS students who made the Feb. 26-March 7 trip to Madagascar for a firsthand look at the mercy work of the Malagasy Lutheran Church.
This was the fourth annual Mercy Mission Expedition (MME) sponsored by LCMS World Relief and Human Care (WR-HC) and led by CTS Professor John T. Pless. The trip gives future pastors the opportunity to see ministries of the 4 million-plus Malagasy Lutheran Church, which Pless calls "one of the largest and fastest-growing Lutheran church bodies in the world."
"They have a long and deep history of combining Gospel proclamation, Christian education, and human care," Pless said of that church body. "We have much to learn from them even as we are able to assist them financially."
An unfortunate twist to this year's MME was tension created by political unrest between the Malagasy government and political opposition. Rioters prevented the students from one planned activity — serving a meal at the Good Samaritan Center for the Poor in Fianarantsoa, a facility which has been supported by WR-HC through funds raised by a previous MME group.
The students were allowed to visit many Malagasy mercy ministries, including orphanages, a leper colony, and the new pediatric unit at the Lutheran Hospital in Antsirabe, recently completed with funding from WR-HC donors.
While in Antsirabe, the students worshipped at a Sunday service along with nearly 3,500 Malagasy people.
"In spite of the civil turmoil in Madagascar, faithful Lutherans continue to pray and engage the needy in works of mercy," Pless said.
Now that they are home, the students are making presentations to congregations and church groups about MMEs and the Malagasy Lutherans' body and soul work. Gifts raised through the presentations will help provide cattle for the leper colony and for a toby (village of mercy) in Madagascar.
For more information, contact Pless at 260-452-2271 or john.pless@ctsfw.edu.
Posted April 1, 2009