Nebraska
June 4-6
Seward, Neb.
Elected:
Rev. Russell Sommerfeld, Seward, Neb., third term, first ballot.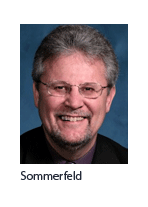 Rev. Richard Snow, Battle Creek, first vice president, representing Region C.
Rev. Mark Middendorf, Scotia, second vice president, representing Region A.
Rev. Arnold Jurchen, Goehner, third vice president, Region B.
Rev. Orville Walz, Bennington, fourth vice president, Region D. He previously served as second vice president.
The new officers were installed during the convention.
Meeting under the theme "Full of Grace — Seasoned with Salt," the 349 voting delegates took these actions:
Realigned congregations into new circuits and created one additional circuit in the district.
Formed a task force to explore collaboration and partnership ministry with neighboring LCMS districts.
Encouraged the LCMS at its 2010 convention to re-establish the Board for Stewardship.
Expressed thanks to God for "Walking Together Ministries," a partnership of individuals, congregations, organizations, and businesses to meet spiritual and human care needs among recent immigrant populations in Omaha. The resolution encouraged support for the ministry, which is incorporating and applying for non-profit status with the IRS and also applying for LCMS Recognized Service Organization status.
Gave thanks "to the Lord Jesus Christ for His gift to the Church in Concordia University Nebraska"; encouraged members of Nebraska congregations to consider the university for undergraduate and graduate education; and asked all congregations to "prayerfully consider membership" in the Nebraska Association of Congregations for Concordia to provide support for the university and students.
Expressed gratitude for "Issues, Etc.," a program broadcast by KNGN, an LCMS-operated station in McCook, Neb., for "dedication to Christ-centered, cross-focused talk radio."
Posted June 10, 2009