English
June 18-20
Hales Corners, Wis.
Elected: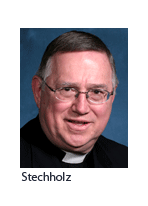 Dr. David Stechholz, Livonia, Mich., second term, first ballot (Stechholz was unopposed).
Dr. Roger Ellis, Sarnia, Ontario, Canada, first vice president.
Rev. Wayne Morton, Pinetop, Ariz., second vice president.
Dr. Martin Bangert, Muskego, Wis., third vice president.
Rev. Jamison Hardy, McMurray, Pa., fourth vice president.
Officers were installed during the convention.
Under the convention theme, "Let the Children Come to Me," from Matt. 19:13-15, delegates to the district's 53rd convention adopted a resolution with the title stating that it is "against the dissolution of the English District of the LCMS." It asks the Synod to adopt a policy stipulating that if dissolution of the district should ever become a viable course of action, such action must originate within the English District itself.
That was the only resolution delegates adopted from overtures submitted by congregations. They defeated three other resolutions resulting from congregations' overtures. A floor committee declined to offer the convention a fifth resolution from congregational overtures.
English District delegates also evaluated the work of the Blue Ribbon Task Force on Synod Structure and Governance after a presentation to the convention by LCMS fifth vice president, Dr. David Buegler.
The convention also received donations of more than 300 quilts, which were delivered to local human-care ministries and agencies.
Posted June 24, 2009