Three LCMS schools were selected in February to receive the National Lutheran School Accreditation's (NLSA) "exemplary status" award out of the 100 sch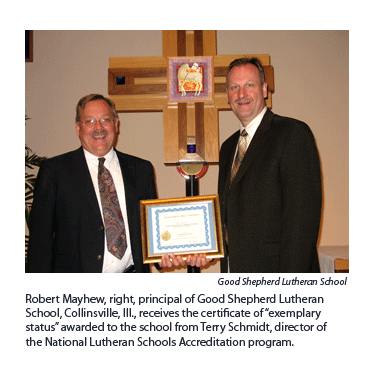 ools that it accredited or re-accredited in August 2008. The schools are:
Good Shepherd Lutheran School, Collinsville, Ill., Principal Robert Mayhew;
Immanuel Lutheran School, Batavia, Ill., Principal Glenn Steinbrenner; and
Trinity Lutheran School, Elkhart, Ind., Principal Sandra M. Price.
According to the NLSA, schools receiving the exemplary accreditation must demonstrate a high degree of excellence by complying with at least 90 percent of the indicators of school success used to quantify compliance with national accreditation standards.
In addition, school administrators must also demonstrate that their school is:
Christ-centered and service driven;
"documenting an outstanding record of student academic preparation and success;
"perceived positively in its community;
"serving satisfied "stakeholders"; and
"demonstrating innovative leadership through specific "Best Practices."
Exemplary status is achieved when a school is nominated by an NLSA visiting team or its district education official and is awarded for the school year following the granting of a school's new accreditation cycle.
NLSA Director Terry Schmidt said the process for identifying exemplary schools "empowers the schools that are selected to intentionally share their 'Best Practices' with other LCMS schools in our system. It encourages Lutheran schools to work together, as a system, in order to improve and grow."
Administrators of the three schools each shared their schools' "Best Practices" at the Lutheran Education Association National Administrators Conference March 13 in Atlanta.
Good Shepherd Lutheran School, established in 1984, has an enrollment of 490 students, and received its NLSA certificate at a church service on March 22. With an enrollment of 296 students, Immanuel Lutheran School is 20 years old, and will be recognized for its accomplishment on April 19. Celebrating its 135th year, Trinity Lutheran School has 287 students and will receive its certificate at a future church service.
Since 1986, the NLSA has accredited 706 schools out of the 2,300 preschools, elementary, and high schools of the Missouri Synod by recognizing schools that provide quality Christian education and engage in continuous improvement.
Posted April 1, 2009