LCMS World Relief and Human Care (WR-HC) has awarded more than $325,000 in domestic development grants this year to support efforts to share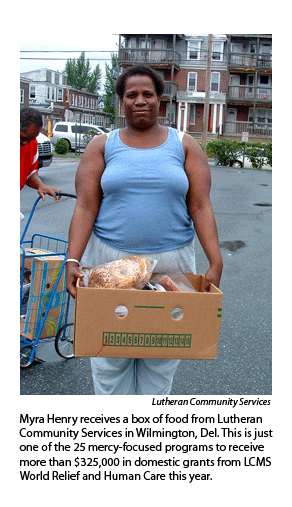 Christ's mercy with people in physical and spiritual need.

Receiving the grants were 25 congregations, districts, Recognized Service Organizations, and LCMS-related ministries.

"WR-HC is privileged that our domestic grant program allows us the opportunity to partner with these organizations in hands-on ministry," said Barb Hoffmann, grant administrator. The grants were made possible because of unrestricted gifts from donors throughout the United States.
Nine congregations in the following states received grants:
Illinois — Zion, Chicago, for programs to assist youth and new immigrants at the William H. Griffin Community Center.
Michigan — Emmanuel, Cadillac, for parish nurse ministry.
Missouri — Immanuel, Olivette, for continued ministry at Light of Christ Chinese Lutheran Mission.
Missouri — St. Paul, Jackson, for a Family Foundation outreach that identifies ways members can assist with everyday needs like home or car repairs or skill training for primarily single-parent families experiencing financial, emotional or spiritual challenges.
North Carolina — Resurrection, Charlotte, for continued after-school ministry at Good Shepherd Lutheran School.
Oregon — Trinity, Portland, for education opportunities for Latino children at Trinity Lutheran School.
Pennsylvania — First Trinity, Pittsburgh, for volunteers to provide meals to the homeless and engage them in conversation.
Wisconsin — Sherman Park, Milwaukee, for a parish nurse and deaconess program providing health education and prevention and advocacy services to the community.
Wisconsin — Grace, Elkhart, to provide training for a deaconess intern to serve as a chaplain.
Two LCMS districts received funds:
Michigan District, for a chaplain to provide spiritual care to oncology patients in outpatient settings at St. Joseph Mercy Health Systems.
South Wisconsin District, to establish an ethnic food pantry for the estimated 12,000 African immigrants who live in Milwaukee.
Eleven Recognized Service Organizations received grants to support programs providing tangible care with a strong connection to Word and Sacrament ministry:
Alaska — Lutheran Social Services of Alaska, Anchorage, for food distribution, transitional housing, and other direct assistance to people in need.
Alaska — Samaritan Counseling Center, Fairbanks, for continued pastoral counseling services.
Colorado — Lutheran Family Services of Colorado, Denver, for services that foster self-sufficiency among refugees and provide respite care for foster parents.
Delaware — Lutheran Community Services, Wilmington, for food and housing assistance for low-income families.
Illinois — Voice of Care, Wheaton, for operational assistance to provide chaplaincy care to developmentally disabled individuals at primarily secular institutions.
Maryland — Lutheran Mission Society, Baltimore, for additional staffing at a compassion center distributing food and clothing, providing basic health services, and offering pastoral or crisis counseling.
Massachusetts — Lutheran Social Services of New England, Wellesley, for its SmartCare program, serving older adults who are eligible to live in a nursing home but choose to remain at home with the assistance of a personal care service worker.
Missouri — Lutheran Family and Children's Services of Missouri, St. Louis, for services to pregnant and parenting women and their families and for youth development programs.
North Dakota — Lutheran Social Services of North Dakota, Fargo, for ministry to at-risk youth and their parents.
Ohio — Lutheran Metro Ministry, Cleveland, to provide volunteer coordinators at its shelter for homeless men.
Texas — Ysleta Lutheran Mission, El Paso, to assist impoverished families in the Sparks Colonias with building repairs.
Three ministries sponsored by other LCMS organizations also received grants:
Missouri — Concordia Seminary, St. Louis, for counseling co-pay assistance for students and their families.
Texas — Christ Clinic, Katy, to assist women with referrals to caring Christian health facilities.
Wisconsin — Metro Milwaukee Lutheran Mission Society, Milwaukee, to provide information, resources, and encouragement to help ex-offenders make the transition toward becoming productive members of society.
The domestic grants are awarded twice a year, as funds are available. Applications for the next cycle are due Nov. 2. See www.lcms.org/?14585 for guidelines.
Posted Aug. 5, 2009