By Todd A. Boettcher
Is your church legal?
Your first reaction to that question is likely to be, "Of course we are!" And for virtually all facets of your church's ministry, organization, and operation, you'd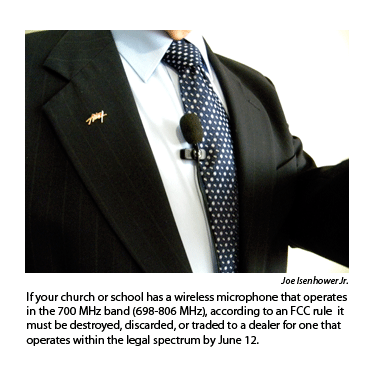 be correct.
However, there is one area in which your church or school may or may not be legal, and you may not be aware of the reason. It has to do with modern technology — specifically, with wireless microphones.
These days, most of our churches use wireless microphones in their sound reinforcement systems, allowing the pastor and others more mobility in the chancel and throughout the sanctuary. In some cases, there may be more than one wireless microphone in use throughout the church's facilities — for spoken word and for musical presentation. This freedom of increased mobility is seen by most churches as a real advantage in providing effective communication and presentation for the ministry of the congregation.
Think of a wireless microphone as a miniature radio station with a transmitter and a receiver. The transmitter could be a body-pack unit connected to a lavalier microphone or a head-worn microphone. A hand-held or stand-held wireless microphone has the transmitter built in. The receiver picks up the transmitted signal through one or two antennas. It is usually located near the audio mixer and control equipment, and is wired directly to a mixer input.
Historically (10 years ago or more), most wireless microphone systems operated in the upper VHF spectrum (TV channels 7-13). This spectrum used transmitting frequencies ranging from 174 Megahertz (MHz) to 216 MHz. Many of the newer wireless microphones operate in the UHF spectrum (originally TV channels 14-83). The UHF spectrum includes frequencies from 470 MHz to 890 MHz.
Some years ago, the Federal Communications Commission (FCC) reallocated TV channels 70-83 for other (non-broadcast) uses. This left UHF television channels 14-69. Virtually all UHF wireless microphones operated in this spectrum (470 MHz to 806 MHz). Many of those wireless microphones operated between 698 MHz and 806 MHz — a range is known as "the 700 MHz band."
With the mandatory implementation of digital over-the-air television in June 2009, the FCC reorganized all the new digital television channels to operate at Channel 51 or below. The federal Department of Homeland Security (DHS) directed that it would take control of the 700 MHz band (technically 698.000 MHz to 806.000 MHz) for "public safety" use, such as police, fire, and emergency services. A portion of that spectrum also would be reassigned to licensed wireless broadband services.
All churches, schools, sound-rental companies, recording companies, and the entertainment industry all use unlicensed wireless microphones. As a result, their use falls under the FCC's Rules and Regulations, Part 15, which only permits wireless microphone use within the existing unused spectrum authorized for over-the-air television transmission.
The FCC has published a directive that prohibits use of wireless microphones (and other similar devices) in the 700 MHz band, effective June 12, 2010. No exceptions will be granted.
As a result, if your church or school has a wireless microphone that operates in the 700 MHz band (698-806 MHz), it must be destroyed, discarded, or traded to a dealer for one that operates within the legal spectrum. A wireless microphone designed to operate in the 700 MHz spectrum cannot be adjusted or changed (even by the manufacturer) to operate in any other legal spectrum. It may not be sold, given away, or used after June 11, 2010.
I recommend that you verify the operating frequency of all wireless microphones as soon as possible and take action quickly, if necessary.
For information from the FCC about its directive that prohibits operation of wireless microphones (or similar devices) in the 700 MHz band by that date, visit http://www.fcc.gov/cgb/wirelessmicrophones/.

To contact me directly, please send an e-mail message to tboettcher@milwpc.com.
Todd Boettcher of Mequon, Wis., is a Certified Professional Broadcast Engineer with nearly 40 years of experience in that field. Now retired, he is active in the Milwaukee chapter of the Society of Broadcast Engineers, in independent technical facilities design and professional audio recording. A member of St. John's Lutheran Church, Glendale, Wis., he formerly served on the LCMS Board for Communication Services (1995-2004) and is technical manager for the LCMS South Wisconsin District's conventions and other special events.
Posted May 12, 2010