Rev. Harold E. Brockhoff, who served as president of the Synod's Oklahoma District from 1970 to 1978, died Feb. 2 in Bixby, Okla. He was 83.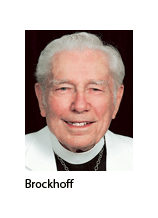 A memorial service was held Feb. 6 in Tulsa.
Rev. Brockhoff received his M.Div. degree from Concordia Seminary, St. Louis, in 1950, and served Trinity Lutheran Church, Ardmore, Okla., for three years, and Christ the Redeemer Lutheran Church, Tulsa, Okla., for 40 years before retiring in 1994.
He also served the Oklahoma District as circuit counselor (1957), stewardship secretary (1965), second vice-president, pastoral counselor to the district's Lutheran Laymen's League, and constitution chairman.
Rev. Brockhoff is survived by his wife, Dolores; sons, John Brockhoff and Dr. David Brockhoff (pastor at Holy Trinity, Masaryktown, Fla.); and daughters, Deborah Rainey, Kathleen Brockhoff, and Rebecca Harris; five grandchildren, and a brother, Rev. Daniel Brockhoff.
Posted May 13, 2010