HOUSTON—Using a variation of the convention's theme for its second morning devotion, Ted Kober, founder and president of Ambassadors of Reconciliation, spoke to the delegates on the topic of "One People Forgiven through Chri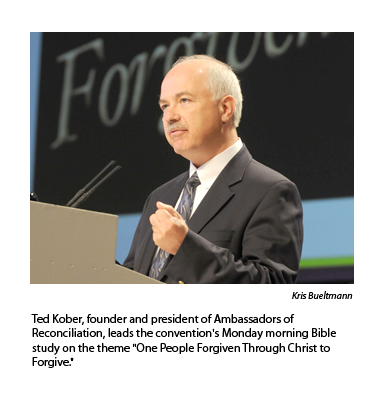 st to Forgive."
The 64th Regular Convention of The Lutheran Church—Missouri Synod is meeting July 10–17 at the George R. Brown Convention Center under the theme "ONE People—Forgiven." Among the approximately 3,000 participants are some 1,200 clergy and lay voting delegates. Kober also presented the convention's opening devotion Sunday morning.
Kober noted that Christians are only able to forgive because of Christ's death on the cross, an act that "empower[s] us to forgive others." He also warned against the harm in denying forgiveness to those seeking it, reminding delegates that "God's forgiveness is for everyone." Showing mercy and forgiveness to those who have caused offense is a gift, but not one that is "offered so that you may hoard it for yourself," Kober said.
In closing, Kober urged the delegates and other convention attendees to "receive God's forgiveness," and to, in turn, "forgive as the Lord has forgiven you."
Convention Bible studies and Bible-study outlines are available at www.lcms.org/convention.
Posted July 12, 2010