Thanks to a Milwaukee-based outreach media ministry, LCMS chaplains will be distributing 600 MP3 players pre-loaded with four biblical messages to servicemen and women overseas.
"Time of Grace" is a non-profit organization founded in 2001 whose goal is to "share the good news of Jesus Christ with as many people as possible through the most advanced technology available," according to its Web site, www.timeofgrace.org.
The ministry produces a 30-minute, weekly television program that features a Bible-based message from Rev. Mark Jeske, senior pastor at St. Marcus Luther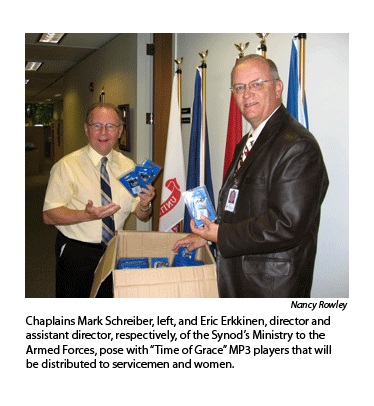 an Church, Milwaukee, a member of the Wisconsin Evangelical Lutheran Synod.
Chaplain Eric Erkkinen, assistant director of LCMS Ministry to the Armed Forces, said that as a result of meetings with Time of Grace leaders last year, the ministry decided to reach out to the U.S. military using new technology.
The Time of Grace MP3 players, which will be sent to 13 deployed chaplains in Iraq, Afghanistan, Kuwait, and Kyrgyzstan, have four, 30-minute messages from Jeske: "Jesus is Lord over Satan," "Jesus is Lord over Sin," "Jesus is Lord over Death," and "Jesus is Lord over Disease."
Erkkinen said the chaplains will distribute the MP3 players through personal or chapel-service contact.
"Our soldiers, sailors, airmen, and Marines have to travel light whenever they deploy," he said. "These MP3 players carry the powerful Word of God in a light package. Time of Grace will touch the lives of our troops who face numerous crises every day."
Beginning in 2007, an LCMS Fan into Flame-funded mission outreach project — carried out in partnership with Albuquerque, N.M.-based Hosanna/Faith Comes by Hearing — distributed more than 55,000 "BibleSticks" to 24,000 LCMS youth at the 2007 National Youth Gathering; 31,000 LCMS students in grades 1-8; and all LCMS chaplains and career missionaries. The BibleStick is a dedicated audio device that comes preloaded with a dramatized audio version of the New Testament.
Posted April 14, 2010