Dr. Judith Christian, director of Children's Ministry and Family Ministry for LCMS District and Congregational Services, is the 2010 recipient of the Lutheran Ed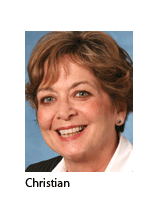 ucation Association (LEA) Christus Magister (Christ the Master Teacher) Award.
She is the 52nd person to receive the award that has been given by LEA since 1965 to "Lutheran educators who have made significant contributions to Lutheran education," according to an LEA news release.
"I am committed to inspiring others to raise their voices on behalf of children and to support those who are engaged in next-generation ministries and in ministries that support the Christian home as fundamental to shaping vibrant faith," Christian said.
She earned a B.A. in elementary education and an M.A. in early childhood education from Concordia University Chicago, River Forest, Ill., and a doctorate in educational leadership and administration from St. Louis University, St. Louis.
Her previous honors include Educator of Achievement from the Missouri Council of American Private Education, Excellence in Teaching award from Emerson Electric; Alumnus of the Year from Concordia University Chicago; Thy Kingdom Come Recognition of Commitment, Dedication, and Support of Schools in Black Ministry; and Doctor of Letters from Concordia University, St. Paul, Minn.
Prior to serving in her current position, Christian was an elementary and early childhood teacher, reading specialist, and art educator at Lutheran schools in Illinois, Ohio, and Missouri. She is a keynote speaker, sectional leader, and consultant for numerous conferences, schools, and early childhood centers, as well as a writer on child and family ministries.
In support of her nomination, one colleague wrote, "Judy is a great leader because she understands the goal of leadership is not to climb the ladder, but, like Jesus, to move down the ladder with towel in hand ready to serve." Another commented, "Our Synod is more child attentive because of the leadership of Judy Christian."
Her greatest joy in ministry, she said, "is waking up each morning knowing that I have yet another opportunity to try to get it right, to share the day with those I cherish, to celebrate those who give generously of their time and talents, to be comforted with the knowledge that ultimately the mission is Christ's and He will move it forward in spite of the foibles of His people, to be amazed by the miracles He works, to know and experience His extravagant love, and to express my gratitude."
Other 2010 LEA awards and those chosen to receive them are:
Distinguished Lutheran Elementary Administrator — Chuck Schiller, principal at St. Paul Lutheran School, New Orleans.
Distinguished Lutheran Early Childhood Administrator — Julie Klopke, early childhood director and assistant principal at St. Peter Lutheran School, Arlington Heights, Ill.
Distinguished Lutheran Early Childhood Teacher — Becky Hohenstein, early childhood teacher and assistant principal at St. Paul's Lutheran School, Des Peres, Mo.
Distinguished Lutheran Elementary Teacher — Alvina Becker, middle school teacher at Christ Community Lutheran School, Kirkwood, Mo.
Outstanding New Lutheran Elementary Teacher — Julie Lemke, middle school teacher and technology resource advisor at Christ Lutheran School, Albuquerque, N.M.
Distinguished Lutheran Secondary Educator — Doug Guenther, teacher and science department chair at Valley Lutheran High School, Saginaw, Mich.
Outstanding New Lutheran Secondary Teacher — Matt McClintock, technology coordinator and teacher, theology teacher, and yearbook advisor at Mayer Lutheran High School, Mayer, Minn.
Nominations for the Christus Magister Award may come from anyone among LEA's some 4,000 members, with the final choice of the award winner made by the LEA Board of Directors and staff. Those in the organization's professional groups nominate and choose their respective award winners.
The eight named to receive the 2010 awards will be recognized at the LEA triennial national convocation March 24-26, 2011, in Cincinnati, Ohio, along with all others who have received LEA awards over the past two years.
Additional information on all award recipients is available at www.lea.org/awardrecipients10.htm.
Posted Feb. 18, 2010