HOUSTON—Six retired Lutheran Church—Missouri Synod missionary couples were recognized for their years of service during the church body's 64th Regular Convention here.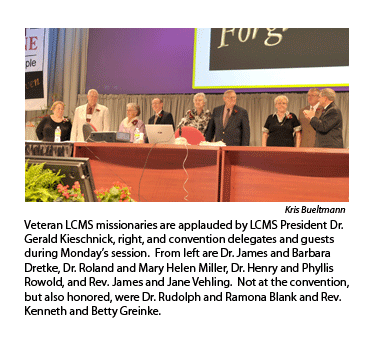 "These are wonderful, dedicated, committed people of God," said Synod President Dr. Gerald B. Kieschnick, welcoming four of the couples to the convention stage. Kieschnick thanked the missionaries for their "great example" and "faithful service," and said he considers them "heroes."
The convention gave the missionaries lengthy applause and a standing ovation.
Honored were:
Dr. James and Barbara Dretke, who served in Nigeria (1956-60), Ghana (1960-78) and Kenya (1979-83), as well as the Zwemer Institute in Fort Wayne, Ind. (1987-2004).
Dr. Roland and Mary Helen Miller — India (1952-76).
Dr. Henry and Phyllis Rowold — Taiwan (1965-84), Hong Kong (1984-95) and St. Louis/Greater China (1995-2007).
Rev. James and Jane Vehling — Japan (1966-79 and 1986-93).
Also recognized, but not present at the convention, were:
Dr. Rudolph and Ramona Blank — Venezuela (1963-97 and 2000-2006) and Hispanic Institute of Theology, St. Louis (1998-99).
Rev. Kenneth and Betty Greinke — Nigeria (1965-90), the LCMS Board for Mission Services (1991-96), and LCMS World Mission staff (1996-06).
The Synod is meeting July 10-17 under the theme "ONE People—Forgiven." Among the approximately 3,000 participants are some 1,200 clergy and lay voting delegates.
Posted July 12, 2010