From now through Reformation Day (Oct. 31) Concordia Publishing House is offering Lutheranism 101 at a special introductory Web-only price of $14.99, plus shipping. The book's regular price is $24.99.
Whether you're a lifelong Lutheran, a newcomer to the faith or someone interested in learning what Lutherans believe, Lutheranism 101 is designed as a quick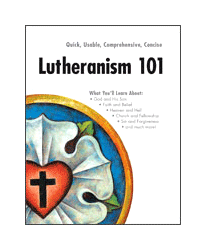 and concise guide to Lutheranism.
In the book, major theological concepts are broken down into easy-to-read articles, charts and bullet points. Included are "Agnus Day" lectionary comic strips by Rev. James Wetzstein, associate pastor at Valparaiso University, Valparaiso, Ind. The comics are intended to show the lighter side of theological concepts.
With Lutheranism 101, readers can learn about God, faith and belief, heaven and hell, church and fellowship, and sin and forgiveness — all from a Lutheran perspective.
LCMS President Rev. Matthew C. Harrison calls the book a "great tool."
"It's packed with great stuff and a wonderful diversity of authors," Harrison said. "It looks good, it feels good — it's exactly what that average person who doesn't want to be overwhelmed with information would want."
CPH President and CEO Dr. Bruce Kintz said lowering the price of Lutheranism 101 "is one of our ways of giving back to the church.
"We realize that this is an essential resource that's needed for today's ministry and practical living."
To order Lutheranism 101 (item no. 124357WEB) or find out more about the book, visit www.cph.org/lutheranism101.
Posted Sept. 29, 2010