To commemorate the 200th anniversary of C.F.W. Walther's birth on Oct. 25, 1811, Concordia Publishing House is offering cash prizes for the best research papers and commemorative sermons and prayers that relate to Walther, the Synod'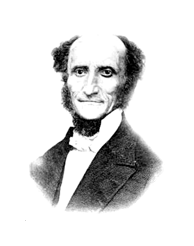 s first president.
The winning author will receive a $1,200 cash award and second place will receive $600. The person who writes the best commemorative sermon and prayer will receive a $200 award. The award-winning papers, other selected papers, and the best commemorative sermon and prayer will be published in a book in 2011.
The entry period for submissions began Jan. 31 and ends Oct. 31.
Any individual may submit a research paper and its bibliography, while Missouri Synod pastors and seminarians may submit a sermon and prayer. Research papers, which may not exceed 25 pages in length, should investigate historical theology by integrating doctrinal history, personal history, and church history within the broader context of civilization.
Sermon and prayer entries will focus on the May 7 commemoration of "C.F.W. Walther, Theologian," as listed in the Lutheran Service Book (Page xii).
Walther participated in the Saxon immigration to Missouri, helped found the log-cabin college that became Concordia Seminary, St. Louis (1839), and led publication of the Der Lutheraner journal (1844).
In 1847, when Walther helped to found the Missouri Synod, the church body included 19 pastors, 30 congregations, and 4,099 baptized members. At the time of his death 40 years later (May 7, 1887), the church body had grown to 931 pastors, 678 member congregations, 746 affiliated congregations, 544 preaching stations, and 459,376 baptized members.
For complete rules of entry and more details, visit www.cph.org/walther.
Posted April 7, 2010