Dr. Fred L. Kuhlmann, a longtime leader in The Lutheran Church–Missouri Synod and the St. Louis community, died April 3 at his home in Webster Groves, M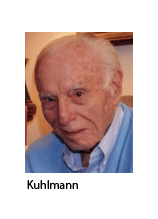 o., a St. Louis suburb. Dr. Kuhlmann, 93, had been suffering from multiple ailments, including congestive heart failure.
A memorial service is scheduled for 10 a.m. Saturday, April 17, at St. Paul's Lutheran Church in Des Peres, Mo. Burial will be in Arcadia, Mich.
Dr. Kuhlmann, an attorney, served 25 years as a member of the Aid Association for Lutherans board of directors, including as chairman; 20 years as a member of the Concordia Publishing House board of directors, including as chairman; 16 years on the board of directors of Lutheran Hospital, St. Louis; and six years each on the LCMS Board for Mission Services, LCMS Board for Parish Services, board of trustees of Valpar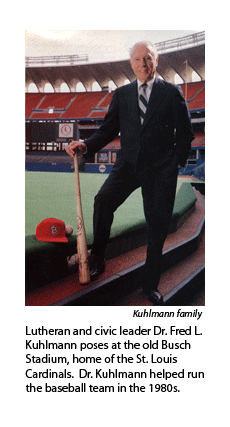 aiso University, Valparaiso, Ind., and as the Synod's legal counsel. His years of involvement with Lutheran boards and organizations total more than 50 years.
He also helped run the St. Louis Cardinals baseball organization in the 1980s and was a longtime executive at Anheuser-Busch Companies in St. Louis.
Dr. Kuhlmann received CPH's "Aquila Award" for "outstanding volunteer contributions to church and society" in 1993. Presenting the award, then-CPH President John W. Gerber said, "Fred is a true major-leaguer, a symbol of success in so many ways and in so many fields. Fred is wise, tireless, and effective, but more importantly, Fred is unwavering in his belief and use of Christian values."
That same year, he also received the Synod's first "Point of Light for Christ" award from LCMS President Dr. A.L. Barry in recognition of Dr. Kuhlmann's longtime support and service to the church.
Other awards include the Christus Vivit from Concordia Seminary, St. Louis, in 1969, and an honorary Doctor of Laws from Valparaiso University in 1991.
Survivors include his wife, Mildred; a daughter, Marilyn Brickler of St. Louis County; and a son, F. Mark Kuhlmann of Kirkwood, Mo.; seven grandchildren; and 10 great-grandchildren.
In lieu of flowers, memorials may be made to Lutheran High School South, 9515 Tesson Ferry Road, St. Louis, MO 63123, or to the Lutheran Camp Association, Arcadia, MI 49613.
Posted April 5, 2010