Blessings and Prayers for Caregivers, a devotional designed to encourage and equip those who care for others, is now available from Concordia Publishing House.
"Our research showed that at any given time, 26.6 percent of the U.S. population is in a care-giving situation, that is, giving or receiving care," said CPH Editor Peggy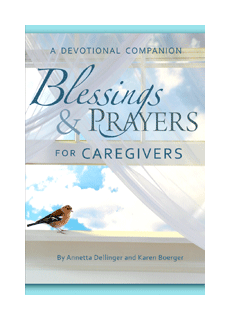 Kuethe. "So, to encourage and affirm Christians who are providing care to a loved one, we developed this pocket-sized devotional companion."
Written by Annetta Dellinger and Karen Boerger, the booklet includes brief prayers, short devotions, hymns and Scripture passages. Included are 30 meditations with titles such as "Why me?," "Do you need a break today?," "Sleep will come," "The real joy in our journey," "Stress is good?," "God's little surprises," "Carry it alone? No way!," "Who, Me? Exercise?," "Where did my friends go?," "Family stress and conflict," "Celebrate life!," "Holding hands with Jesus," "Candid camera caregiver," and "My shepherd, my caregiver."
In the booklet's introduction, the authors acknowledge that to many of the 65 million caregivers in the United States, "each day can be physically demanding and mentally overwhelming," and they offer this advice:
"Each morning, ask God to help you and to walk with you on your journey for the day. You are not alone. He is always with you, walking with you, listening to you 24 hours a day, seven days a week."
"Take care of yourself. Keep healthy foods and snacks available. … Exercise and stretch to keep your blood circulating. Confide in your best friend. Tell him or her everything. Encouragement and support are invaluable."
"Always take time for devotions and conversations with your Creator" and "lay your emotional challenges at the foot of the cross. Leave them there, and don't pick them up again. Your Father is quite capable of handling them for you."
Blessings and Prayers for Caregivers (item no. 124349WEB) is available for $4.99, plus shipping. To order, call CPH at 800-325-3040 or visit its website at www.cph.org.
Posted Aug. 25, 2010