Concordia Publishing House has released its first "application" designed for iPhone, iPod Touch and iPad.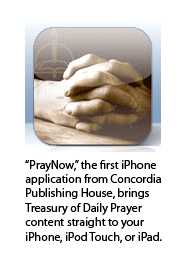 Called "PrayNow," the new resource offers content from the Treasury of Daily Prayer — Scripture and prayer for each day, hymn stanza, and complete orders for daily prayer, including matins, vespers and compline.
The new application also includes a calendar, night-reading mode and bookmarking capabilities.
For more information about PrayNow ($8.99), click here.
Posted June 23, 2010