HOUSTON—Delegates began their work here July 12 by adopting four proposals on Synod Structure and Governance (Floor Committee 8), including a sweeping proposal that reduced the Synod's seven program boards to two elected policy boards. The delegates also favored — but fell short of the required two-thirds approval — an amendment to the Synod constitution to move from a three-year cycle to a four-year cycle for district and national conventions.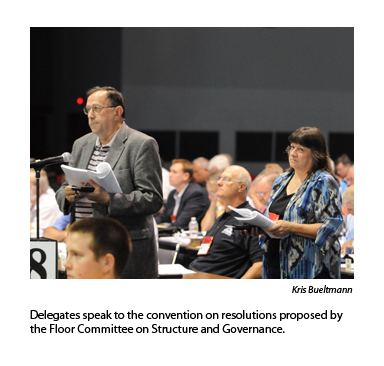 The 64th Regular Convention of The Lutheran Church—Missouri Synod is meeting July 10-17 at the George R. Brown Convention Center under the theme "ONE People—Forgiven." Among the approximately 3,000 participants are some 1,200 clergy and lay voting delegates.
Delegates began the day's work by voting to dispense with a planned question-and-answer session on the restructuring and governance proposals, a carryover from convention activities on July 11. Instead, they opted to move ahead with debate and voting.
Delegates acted on five restructuring and governance resolutions during the morning session:
Resolution 8-18, to amend the constitution to establish a four-year cycle for district and national conventions, failed to achieve a required two-third majority and was defeated, despite a vote of 680 in favor and 495 against. Had it passed, the four-year cycle for district and national conventions would have saved an estimated $3 million at the district level over a 12-year period and an estimated $3.2 million for the same period at the Synod level, according to figures supplied by Committee 8.

One delegate argued that while some money could be saved by going to a four-year cycle, another view is that congregations would lose influence in the Synod if the proposal was enacted. He also agreed that districts and the Synod could have theological convocations, but the constitution did not have to be changed to accomplish that.

Resolution 8-08A, to realign national Synod ministries around two mission boards, was adopted with amendments, 613-568. The resolution eliminated existing program boards and some staffed commissions; made all staff, except the Commission on Theology and Church Relations, accountable to an officer of the Synod; and assigned most functions to the two ministry boards or others, such as the Synod president, the Board of Directors, districts or other LCMS agencies.

A key amendment requires that a new "chief mission officer," reporting to the Synod president, be an ordained minister of religion.

After the vote, Dr. Larry A. Stoterau, president of the LCMS Pacific Southwest District and chair of Floor Committee 8, acknowledged the difficult vote the delegates made on the resolution. "Thank you for the vote, and I also pledge to you that we will work to earn your trust as these transitions take place," he said.

Resolution 8-36, to provide for nominations to national offices, was adopted overwhelmingly, 1,053-99. The resolution makes it possible for those serving on boards and commissions that have been eliminated and have not reached term limits, to be eligible for nomination to one of the new positions.
Resolution 8-15, as amended, to enable regional elections at the 2010 LCMS Convention, was adopted 713-458. The resolution states that for the 2010 elections to the new Board for National Mission and the Board for International Mission, a "24-month advance notification of regional make-up be waived."
Resolution 8-09, to develop a process for developing mission and ministry emphases, was adopted 781-380. This resolution provides for identifying synodwide mission and ministry emphases on a cycle consistent with the national convention.
Before the morning concluded, delegates began consideration of a resolution to elect five vice presidents by geographic region and a proposal to make it possible for every congregation to participate in the election of the Synod president.
Posted July 12, 2010