Dr. Gerhard F. Bode, president of the LCMS Oklahoma District from 1978 to 1988, died Sept. 15 at the age of 96.
Dr. Bode died in Houston at the retirement home where he lived, after suffering complications fr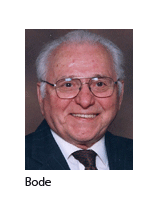 om a stroke.
Visitation will be from 6 to 8 p.m. Sept. 22 at the Foster-Petering Funeral Home, Muskogee, Okla., with funeral services at 10 a.m. Sept. 23 at First Lutheran Church, also in Muskogee. Interment will follow in Greenhill Cemetery.
Dr. Bode began his ministry as a Lutheran educator and taught for 31 years before becoming a pastor. After graduating in 1934 from Concordia Teachers College (now Concordia University Nebraska) in Seward, Neb., he taught at schools in Nebraska, Michigan, Minnesota and Texas.
Dr. Bode received his M.Div. degree in 1965 from Concordia Theological Seminary in Springfield, Ill., and served as pastor of First Lutheran Church in Muskogee, Okla., until Dec. 31, 1980. He received an honorary doctor of divinity degree from Concordia Theological Seminary, Fort Wayne, in 1983.
Prior to his election as district president, he served the Oklahoma District as secretary of education from 1966 to 1970 and again from 1972 to 1978.
Rev. Barrie E. Henke, current Oklahoma District president, said the district was "richly blessed by the 10-year presidency of Dr. Bode."
Dr. Bode's election to the presidency "came at very theologically turbulent time in the history of the district," according to Henke. "However, his soft-spoken word and gentle spirit offered a healing and stabilizing force to the situations that had developed.
"Even during the devastating 'oil bust' of the 1980s, he encouraged the establishment of four new congregations and the development of early childhood education," Henke said. "His wife, Dorothy, was an able co-worker at his side. After his retirement from the parish ministry, they worked from their home as a team in carrying out the administrative responsibilities of our district.
"The Oklahoma District truly and sincerely praises God for the rich blessing He provided us in the gift of Dr. and Mrs. Bode."
In his retirement, Dr. Bode continued to teach Bible classes at First Lutheran Church in Muskogee, and after moving to a senior citizens center in Houston, taught Bible classes for the residents.
He was preceded in death by his wife, his parents, four brothers and five sisters.
Dr. Bode is survived by seven children: Rev. Gerhard H. Bode (Patricia), Hutchinson, Minn.; Kathryn Gallmeier (Alfred), Smithville, Texas; Eugene Bode (Katherine), Riesel, Texas; Raymond Bode, Billings, Mont.; Sarah Vodicka (Robert), Omaha, Neb.; David Bode (Sharon), Houston; and Karl Bode (Susan), Tulsa, Okla, and by brother Roland Bode, Saginaw, Mich., and sister Eunice Kroeger, Mankato, Minn. Also surviving are 10 grandchildren and 22 great-grandchildren.
The family requests that memorials be given to Lutheran Hour Ministries or the Lutheran Church Extension Fund.
Updated Sept. 21, 2010