Dr. Richard L. Schlecht, president of the LCMS Michigan District from 1969 to 1985, died of complications from cancer on April 20 at Crittenton Hospital in Rochester, Mich.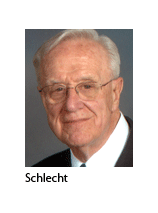 The funeral service was April 24 at St. John Lutheran Church in Rochester, with interment following at Mt. Avon Cemetery there.
Dr. Schlecht, 89, and his wife, Ruth (nee Rockensuess), made their home in Rochester. In addition to his wife, Dr. Schlecht's survivors include a son, Richard (Martha) Schlecht, of Rochester Hills, Mich.; two daughters — Susan (Rev. David) Reed, Auburn, Mich., and Elizabeth (John) Rufner, Fort Wayne, Ind.; nine grandchildren; 12 great-grandchildren; and a brother — Rev. Dennis (Anita) Schlecht of Wheaton, Ill.
A 1945 graduate of Concordia Seminary, St. Louis, Dr. Schlecht served pastorates for the dual parishes of Immanuel Lutheran Church, Powell, Wyo., and Redeemer Lutheran Church, Cody, Wyo. (1945-48); Grace Lutheran Church, Fairbury, Neb. (1948-53); St. Paul Lutheran Church, Royal Oak, Mich. (1953-60); and St. John Lutheran Church, Rochester (1960-70, and 1986-94 as assisting pastor after his retirement from the district office).
In 1966, he was elected a vice president of the Michigan District, and upon a vacancy, he was elevated to the position of president in 1969. During his 16 years as district president, he served as secretary of the LCMS Council of Presidents from 1971 to 1974, and in numerous other district and synodical leadership positions through the years. He also was a member of the board of directors of Lutheran Braille Workers from 1984 until recently.
In 1974, he was awarded an honorary Doctor of Divinity degree from the St. Louis seminary, where he was a member of the Board of Regents from 1989 to 2003. In 1986, he received the Christus Primus Award from Concordia College (now University), Ann Arbor, Mich.
An obituary write-up from the Schlecht family notes that "Dr. Schlecht was a model of faithfulness to the Scriptures and the Lutheran Confessions and in all regards a true Christian gentleman in his care for God's people. God gave him an open and authentic pastor's heart."
The family requests that memorials be directed to the Richard L. Schlecht Student Aid Endowment Fund at Concordia Seminary, St. Louis, or the St. John Lutheran Church and School (Rochester, Mich.) Foundation.
Posted April 21, 2010