Kevin M. Dunning of Las Vegas has accepted an appointment to serve as head of school for Hong Kong International School (HKIS), beginning in July. Owned and operated by the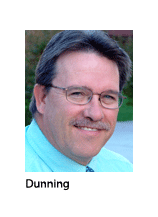 LCMS, HKIS offers an American, Christian education to students in pre-kindergarten through grade 12.
Dunning will succeed David J. (D.J.) Condon, who will become head of school at Canadian Academy in Kobe, Japan, in July. Condon has served HKIS for three years –first as associate head of school, and for the past year as head of school.
Dunning, 54, has served Faith Lutheran Jr/Sr High School in Las Vegas since 1998, first as principal and since 2001 as executive director. Under his leadership, the school grew from 475 students to more than 1,300 enrolled in grades 6 through 12. It is the largest Lutheran school in the U.S. and the largest private school in Nevada.
Dunning's 32-year career in Christian education includes serving as principal of an elementary school and two high schools, and teaching in elementary and high schools.
He is a 1978 graduate of Concordia University Chicago, River Forest, Ill., and holds a master's degree in government and politics from St. John's University in New York.
In 2009, Dunning received the "Master Educator Award" from Concordia University Nebraska, Seward, Neb., and the "Paul Lange Award" from the Association of Lutheran Secondary Schools. Concordia University Chicago will present him with an honorary Doctor of Laws degree Dec. 18, in recognition of his service to Lutheran education.
Announcing the appointment, the HKIS Board of Managers and the Head of School Search Committee said they are "pleased that our school has attracted a new leader with such outstanding personal character, talent and educational experience, and one who will passionately support our Mission and Student Learning Results."
In a YouTube video greeting to the HKIS community, Dunning said he is "honored by the opportunity to lead the pre-eminent international school in Asia. I'm eager to begin working with students, parents, faculty and staff to build on the excellent reputation the school has established — not only in Asia, but throughout the world."
Dunning pledged to "listen to your concerns" and to "work tirelessly to maintain the standards of excellence for which HKIS has become known. And together we will look for ways for each student at HKIS to reach his full potential."
He and his wife, Mary, a teacher at Faith Lutheran Jr/Sr High School, are the parents of two grown children — Jeremy and Maggie.
Posted Dec. 8, 2010