LCMS President Rev. Matthew C. Harrison is among a rare coalition of more than two dozen religious leaders who signed a public letter promoting marriage as "the faithful union of one man and one woman."
Leaders of Catholic, evangelical, Orthodox Jewish, Mormon, Eastern Orthodox, Pentecostal and Sikh communities, as well as new conservative Lutheran and Anglican denominations, signed "The Protection of Marriage: A Shared Commitment."
"Marriage is the permanent and faithful union of one man and one woman," the brief letter states. "As such, marriage is the natural basis of the family. Marriage is an institution fundamental to the well-being of all of society, not just religious communities.
"As religious leaders across different faith communities, we join together and affirm our shared commitment to promote and protect marriage as the union of one man and one woman. We honor the unique love between husbands and wives; the indispensable place of fathers and mothers; and the corresponding rights and dignity of all children."
Through the public letter, the religious leaders "invite and encourage all people, both within and beyond our faith communities, to stand with us in promoting and protecting marriage as the union of one man and one woman." (Click here to read entire statement.)
Harrison said he was honored to sign the statement, which reflects the long-held view of The Lutheran Church–Missouri Synod supporting traditional marriage.
"I like the statement and what it references," he told Reporter. He believes, he said, that religious organizations have a duty "to make a common comm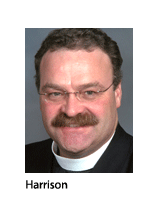 itment to a natural understanding of marriage. It's our responsibility to speak it and to be heard."
He said he appreciated the fact that the statement "was not a joint proclamation of the Gospel," since "there's no understanding on that between all of the signers."
Harrison also liked that the letter was pro-marriage rather than anti-homosexual.
"We can and ought do a much better job of letting those who struggle with homosexuality know that we welcome them as fellow sinners," he said. And, "we certainly don't condone treating sixth commandment sins as though they are unlike any other."
Interfaith alliances such as that behind "The Protection of Marriage" letter were once rare, but are becoming more common as conservatives seek allies in culture-war battles over gay marriage, abortion and embryonic stem cell research. In 2008, for example, Catholic and Mormon leaders allied in a successful campaign to ban gay marriage in California.
Archbishop Timothy Dolan of New York, the new president of the U.S. Catholic Bishops Conference, said the "broad consensus reflected in this letter — across religious divides — is clear: The law of marriage is not about imposing the religion of anyone, but about protecting the common good of everyone."
The letter comes as courts and state legislatures are wrestling with how to define marriage. While polls show a growing number of Americans — especially youth — favor allowing gays and lesbians to wed, prominent religious leaders are lobbying hard to limit marriage to heterosexual unions.
Dozens of protesters clashed outside a federal courthouse in San Francisco on Dec. 6, according to the Los Angeles Times, as the U.S. 9th Circuit Court of Appeals heard opening arguments in a case centered on California's gay marriage ban.
Voters approved a referendum in 2008 that amended the state's constitution to define marriage as the union of one man and one woman. But a federal district judge earlier this year ruled that the ban violates the constitutional rights of gays and lesbians.
The U.S. Catholic Bishops Conference challenged that reasoning Dec. 6 in a Q&A released with the open letter. "No one has the right to change and redefine the nature of marriage," the bishops said.
The interfaith letter will be sent to the country's nearly 19,000 Catholic parishes where it will be inserted in church bulletins, according to the bishops.
Portions of this story were written by Daniel Burke, © 2010 Religion News Service. Used with permission.
Posted Dec. 10, 2010